McCown Gets "Tremendous" Grade
August 3rd, 2014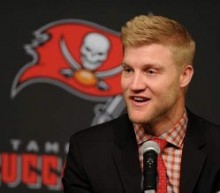 Has Tampa Bay gone from making everyone laugh to commanding respect at the quarterback position?
Can one training camp practice reveal such a transition?
Fight-instigating, barista-training, pedestrian-bumping, olive oil-lapping, popcorn-munching, coffee-slurping, fried-chicken-eating, oatmeal-loving, circle-jerking, beer-chugging, cricket-watching, scone-loathing, college football-naïve, baseball box score-reading Peter King, of Sports Illustrated and NBC Sports fame, thinks so.
He said, "Josh McCown looked tremendous" at Thursday's practice at One Buc Palace. And King claims the Bucs drew laughs in NFL circles when they anointed him starting QB in March in a division with Cam Newton, Drew Brees and Matt Ryan. But now King is becoming a believer.
Ironically, in King's highlight video from Bucs training camp, when he says, "Josh McCown looked tremendous," the video shows McCown throwing a ball slightly off target to Mike Evans.
You can enjoy King's analysis below. As for the "tremendous" take on McCown's Thursday practice, Joe can say McCown didn't do anything out of the ordinary for him and King is traveling the country watching NFL practices. So perhaps the Bucs counting on a miracle season from McCown isn't that crazy?