Defense Controls The "W"
September 5th, 2018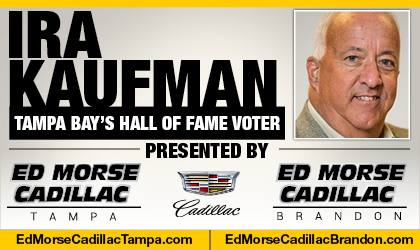 BY IRA KAUFMAN
From a silver and black grave, Al Davis offers up a succinct posthumous scouting report for Tampa Bay's season opener in New Orleans.
It was the late Hall of Fame owner of the Raiders who supplied football fans with one of the great quotes in pro football annals 40 years ago.
Staring straight into the cameras of NFL films, Davis cut through all the nonsense:
"Somewhere within the first five to 10 plays of the game," Davis said, "the other team's quarterback must go down — and he must go down hard."
That's it. That's the whole of Sunday's matchup in a nutshell.
Drew Brees has had his way with the Buc defense for far too long. Can we really expect Ryan Fitzpatrick to win a shootout against one of the great offenses of the modern era?
This is where the overhauled defensive line of the Bucs must make its stand, even without newcomers Vita Vea and Mitch Unrein. This is where Jason Pierre-Paul, Gerald McCoy, Vinny Curry and Beau Allen need to show that these aren't the same old Bucs.
"They are an explosive offense and it starts with their quarterback, who is a great player," says Bucs LB coach Mark Duffner. "Their offensive line is one of the best in the league and we've got our hands full in terms of what they present from a matchup standpoint."
There have been too many Sunday afternoons against the Bucs when Brees didn't requite a post-game shower. He hugged his family, talked at the podium for a few minutes and walked out of the Superdome without as much as a bruise, looking for some gumbo and bread pudding.
You want proof?
In 25 career starts against the Bucs, including one as a member of the Chargers, Brees is 16-9 with 48 TD passes. He has been sacked only 33 times and the breakdown is quite telling.
When the Bucs drop Brees two times or fewer, he is 15-6 against them.
When Tampa Bay puts Brees on the ground at least three times, he is 1-3 and the Saints average only 17.8 points.
Courageous Vs. Tenacious
Sack totals can be overstated, but what can't be disputed is the Buc pass defense will be shredded Sunday if Brees isn't made to feel uncomfortable.
Even in the 2017 season finale, when the Bucs rallied for a 31-24 triumph against the Saints on a last-second TD pass, Brees was sacked twice and hit only two other times.
Those sacks and hits came courtesy of Clinton McDonald and Ryan Russell, who have both since departed.
"Brees gets it," Duffner said. "He's got eyes in the back of his head to get out of trouble and he's also courageous about holding the ball long enough to wait for a guy to get open."
Usually, that guy is Michael Thomas or Alvin Kamara, the league's reigning Offensive Rookie of the Year. With Mark Ingram unavailable due to suspension, Kamara may take on a more prominent role Sunday.
"Kamara is a big challenge, with those swing passes out of the backfield," says Lavonte David. "Sometimes, they line him up at receiver. He's a force to be reckoned with."
Thomas, an emerging star, caught 104 passes in his second NFL season.
The best way to contain Thomas? Move Brees off his sweet spot.
Ugliest Opening Number
That won't be easy against a Saints front that includes elite center Max Unger and a pair of former first-round draft picks in guard Andrus Peat and tackle Ryan Ramczyk.
"We can't wait," says Kwon Alexander. "We're not worried about being the underdog. We're going to do our thing. This whole defense is more confident and we're having a lot more fun. They've got great players and great coaches, but we do, too."
Tampa Bay's early offensive woes are well documented, but the Bucs also allowed an NFL-high 87 points in the opening quarter last fall.
There were too many times, especially on the road, when Mike Smith's work force appeared unprepared at kickoff time.
"To win this game, we've got to play team football in a hostile environment," David says. "We've got to start fast and finish faster."
Now in his 40th year covering the NFL, Ira Kaufman is the most revered sports personality and writer in the Tampa Bay area. He scored a full-time seat at JoeBucsFan.com world headquarters in July of 2016. Tampa Bay's only Pro Football Hall of Fame voter, Ira busts out columns here every Monday, Wednesday and Friday, and his award winning podcasts fire Tuesdays and Thursdays. You can also hear Ira on SiriusXM Mad Dog Radio Wednesdays at 5 p.m. during football season. Also a TV star, see Ira now on Mondays at 10:30 p.m. on Spectrum Sports 360 (aka BayNews 9). Ira also is part of the FOX-13 Tailgate Sunday NFL show and enjoys beet salads, Riesling, tennis, Chiefs victories and needling Joe.