Show Up And Drown The Skeptics
September 3rd, 2018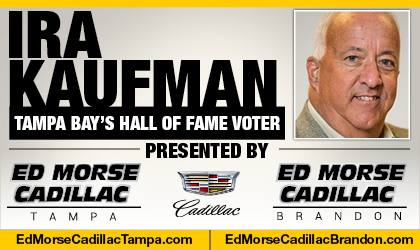 BY IRA KAUFMAN
Listen to what the man said.
Todd Monken calls plays and calls it like it is with equal distinction. Tampa Bay's refreshingly candid offensive coordinator recently acknowledged what Buc fans have suspected all along — this team was mentally weak in 2017.
This franchise couldn't handle even a modicum of success, so Jason Licht went out and purchased more than 1,000 pounds of character in the offseason. The Bucs are hoping veterans like Jason Pierre-Paul, Vinny Curry, Beau Allen and Mitch Unrein will help keep this franchise's cleats on the ground when adversity strikes.
"I just know that we had a nice year two years ago and all of a sudden it's human nature: 'You know, hey, here we go Bucs.' You know, here it is," Monken said.
"We've arrived and we drink the Kool-Aid. Hard Knocks comes rolling in and we add some pieces and all of a sudden we think you're just going to take the field against grown men, the best in the world and just think it's going to happen. We all saw. That's not how it works. It works by the work you put in and the attention to detail that you do every single day. And you don't accept laziness, mediocrity, balls on the ground, turnovers, false starts, bad football."
Reality slapped the Bucs across the facemask last fall. Now, let's see how they deal with low expectations.
Underdog Vs. Slow Starters
The Saints will be favored by 9 or 10 points heading into Sunday's season opener as Jameis Winston plays the waiting game. New Orleans running back Mark Ingram is also serving an NFL suspension, and his departure looms large.
Ingram scored 22 touchdowns in the past two seasons and his absence should help Tampa Bay's defense focus on Alvin Kamara, the league's Offensive Rookie of the Year.
The Saints also have a habit of starting slowly. Since 2014, they have twice opened 0-2. In the other two seasons, they opened 0-3. None of that will matter if the Bucs don't board their team charter with confidence Saturday.
"If we're explosive and we don't turn it over, we can score points," Monken said. "The same people that a year ago thought we'd win the Super Bowl are the same people this year who think we'll stink. We're the ones who will decide that and it won't be about talent."
He's right. There's enough talent on this roster to keep the Bucs relevant deep into the season.
Dirk Koetter may not want to elaborate about how this training camp was more rigorous — so I will. It was more demanding because this coaching staff was less tolerant.
Don't just take my word for it.
"I think we're doing so much better this year," Monken said. "Maybe I've lost my mind, but what we're doing out here is so much better than that garbage we did last year. We earned that by the way we approached things. We haven't been doing that this year."
What we know for certain in the NFL is that hard times are around the corner. Deal with it. If you think these players are banged up at the moment, wait until the Bucs have to rebound off a short week after dealing with the physicality of the Steelers.
Show Up
Deal with it. Win some close games for a change. Earn some respect from your peers.
This franchise has done very little right during its lost decade.
Upsetting the Saints would drown out the skeptics while providing the ticket office with a nice bounce heading into the home opener.
"I don't know if everyone else is brutally honest about it, but I am and coach is," Monken said. "As a collective organization, the players taking ownership of this thing, I've seen more of that. They have to decide how important the winning is. That's got to be important because otherwise it becomes individualistic. I can still play well and I'm OK. Don't you want to talk about where we're headed, what we've done, what we've accomplished?"
Nobody outside of Tampa Bay is giving this club a rat's chance. Evan Smith says those are the teams you never see coming.
What I know for sure is the Stick Carriers are showing up in force this weekend. It would be nice if the visiting football team did the same.
Now in his 40th year covering the NFL, Ira Kaufman is the most revered sports personality and writer in the Tampa Bay area. He scored a full-time seat at JoeBucsFan.com world headquarters in July of 2016. Tampa Bay's only Pro Football Hall of Fame voter, Ira busts out columns here every Monday, Wednesday and Friday, and his award winning podcasts fire Tuesdays and Thursdays. You can also hear Ira on SiriusXM Mad Dog Radio Wednesdays at 5 p.m. during football season. Also a TV star, see Ira now on Mondays at 10:30 p.m. on Spectrum Sports 360 (aka BayNews 9). Ira also is part of the FOX-13 Tailgate Sunday NFL show and enjoys beet salads, Riesling, tennis, Chiefs victories and needling Joe.