Desperate For Balance
September 26th, 2018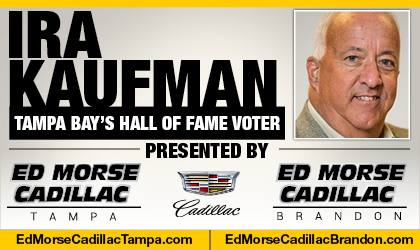 BY IRA KAUFMAN
It's not sustainable.
Tampa Bay's 2-1 getaway isn't a fluke, but it's not sustainable. If the Bucs don't run the ball more efficiently or tighten up defensively, this promising season will slip away.
The ground game has been a problem since 2016, when Dirk Koetter was promoted from offensive coordinator to head coach. Ronald Jones was supposed to inject some juice, but he can't even get on the field right now.
While Jones sits, the Bucs rank 30th in the league in rushing yards and last in the NFL with a 3.0 average per carry. Through three weeks, there has been only one run of at least 20 yards.
So much for explosive plays in the run game.
I still have faith that Peyton Barber will get the job done if his blockers do a better job of creating creases. But this is the third consecutive year that this ground game has been grounded, so the concerns run deep.
The Bucs didn't run often against the Steelers, but that's no surprise, given the halftime score. A 20-point deficit takes a hacksaw to your offensive playbook, so balance goes out the window.
Understood.
Strength, Strategy & Head-scratching
Besides, this passing attack continues to bludgeon opponents. Tampa Bay still tops the NFL in total offense and average yards per snap, tied for third in scoring at 34 points per game.
At this point, the Bucs are throwing to set up the run. With these targets, who can argue with that strategy?
The real issue, once again, is a defense that isn't playoff-worthy.
It's obvious this league believes more scoring equals more interest, but even with that backdrop, Mike Smith's group is underachieving. This team ranks 31st in total defense, 29th in scoring defense and 29th in yards allowed per snap. And don't get me started on that 78 percent completion rate by opposing QBs.
"They made more plays than we did," Lavonte David told me after Monday night's shootout loss. "We shot ourselves in the foot early, climbed back into it and then couldn't get off the field when we needed to. They out-executed us."
Let's not blame all this lousy defense on the absence of Vita Vea and Mitch Unrein. There's still two new pieces up front in Jason Pierre-Paul and Vinny Curry.
Noah Spence finally dressed Monday evening, but he could have watched from his easy chair back home for all the action he saw. Zero snaps from No. 57.
Zero.
"We played hard until the game was over, but we've got to find a way to finish," Kwon Alexander said. "We were trying our hardest to get the ball back for our offense and we didn't do it. I feel like we were way better than that. Sunday is going to be a big game to show we've still got it."
If the Bears carve up this reeling defense, the Bucs will have some big decisions to make at the bye week — and I don't mean a debate about who should be under center.
One-Dimensional Bears
Through three games, the Bears are the anti-Bucs. They win with stout defense led by Khalil Mack and a sound running game.
Buc fans will rightfully be in revolt if Mitch Trubisky lights up this secondary at Soldier Field. Chicago has only four completions of at least 20 yards and zero completions of 40 yards or more.
The Bears don't beat themselves, but this is a plodding attack. A maligned Buc unit needs to make a stand heading into the bye week, or it should be bye bye for a defensive scheme that isn't working.
That 2-1 record looks impressive on paper. Look a little deeper and you see a paper trail for concern.
Chicago's defense is no joke. Can't say the same about the Bucs.
Now in his 40th year covering the NFL, Ira Kaufman is the most revered sports personality and writer in the Tampa Bay area. He scored a full-time seat at JoeBucsFan.com world headquarters in July of 2016. Tampa Bay's only Pro Football Hall of Fame busts out columns here every Monday, Wednesday and Friday, and his award winning podcasts fire Tuesdays and Thursdays. You can also hear Ira on SiriusXM Mad Dog Radio Wednesdays at 5 p.m. Also a TV star, Ira is part of the FOX-13 Tailgate Sunday NFL show at 10:30 a.m. He's also on BayNews 9 Mondays & Wednesdays at 10:30 p.m. He enjoys beet salads, Riesling, tennis, Bette Midler, Chiefs victories and needling Joe.