"Body Language"
September 28th, 2018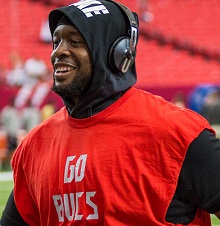 The NFL mic'd up Gerald McCoy against the Steelers and it was an interesting few minutes.
It opens with McCoy embracing and talking to Warren Sapp before the game, and then talking up rookie cornerback Carlton Davis, who was a starter against Pittsburgh.
The Monday Night Football announcers' voices were infused when McCoy was heard apologizing to Ben Roethlisberger during the game — before the whistle was blown following a tackle of Big Ben. "He was apologizing in mid-hit."
Interesting to Joe was McCoy barking at his team to improve their "body language." Meanwhile, Dirk Koetter was walking behind McCoy and not exactly showing enthusiastic body language.
McCoy is also seen professing his love of Kwon Alexander as a teammate to Kwon himself, and more.
Here's the link. Joe's certain the anti-McCoy crowd will offer its share of predictable potshots.