Bears 48, Buccaneers 10
September 30th, 2018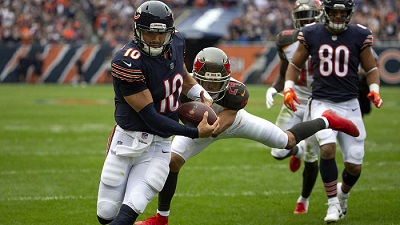 Dropped balls. Dumb penalties. Red zone failures. Lousy blocking. The typical Mike Smith pass defense.
Take your pick.
The Bucs showed little heart and little talent in getting rolled in Chicago.
Joe already has called for Mike Smith to be fired, a decision Joe does not take lightly. But Smith earned it. Today was just the icing on a nasty cake.
Through four games, it's clear the Bucs don't have much of a running game. And the problem is the blocking, the running and the commitment and innovation from the coaching staff.
Positives? Joe will tip a cap to Jason Pierre-Paul, who showed up to play and recorded his fourth sack in four games. DeSean Jackson was a stud on his five catches for 112 yards. Kwon Alexander flashed a couple of times but had plenty of misses.
America's Quarterback, Jameis Winston, played with a ton of heart but certainly looked a little rusty. This was a good game to get him work with the Bears in prevent-defense mode.
Something isn't right with this Bucs team. There was no excuse for this kind of showing. But it's the perfect time to reset with the bye week arriving at just the right time.
Take a deep breath. It was just one game.