Training Camp Day 11 News, Notes & Nuggets
August 8th, 2018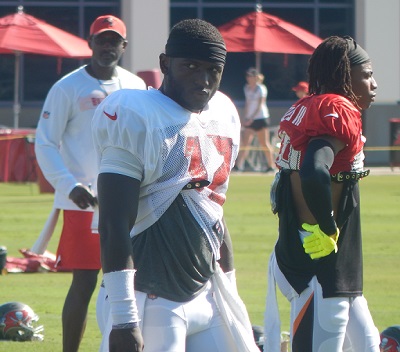 Interesting morning at One Buc Palace as your beloved Bucs were back at it in full pads in advance of Thursday's preseason opener in Miami. 
Joe's got plenty of need-to-know, and more. Enjoy!
*Impressive crowd yesterday for this season pass member day. Indoor facility is nearly full when crowd moves inside. About 3K strong.
*Welcome sight was projected starting right guard Caleb Benenoch in full pads but it didn't appear he was participating in any team work or contact drills. Still a great sign, versus guys like Will Gholston, Josh Robinson and Mitch Unrein who were in shorts nursing injuries.
*Much of today looks a step slower than usual, and Koetter said after practice the team wasn't going full speed in everything it's hard to call winners an losers when it comes to grading whether the offense got the best of the defense, or vice versa.
*Chris Conte flashes coverage skills on a short crossing route, not a usual spot for him.
*Nice connection by Ryan Griffin to receiver Justin Watson, who looks very comfortable and agile for a 6-3 rookie receiver.
*DROP! Bernard Reedy from Griffin. Not the easiest catch, but it was in his hands.
*Jason Pierre-Paul, Gerald McCoy and D-line coach Brentson Buckner seen dancing together to pumping camp music in between periods. Buckner is often dancing, and often McCoy is doing hip-thrust kinds of things on his own. Lot of camaraderie between those three.
*1-on-1 pass rush/pass blocking is firing and it's a bit of a stalemate between Pierre-Paul and Demar Dotson. Hard to tell if Dotson was driven back too far. A little more left-edge work for JPP this week.
*Easy win for Vinny Curry versus Ryan Jensen, and Curry delivers with a celebration dance.
*Dotson with a W against undrafted rookie DE Demone Harris.
*Donovan Smith handles Noah Spence.
*DaVonte Lambert earns claps from coaches for his W against Alex Cappa (right guard set). Cappa comes back and flattens Lambert on next go, literally puts him on his ass. Crowd approves.
*Ali Marpet stones Beau Allen, and then stones him easily in Round 2. (See home page story on Marpet's camp)
*11-on-11 indoors and Peyton Barber runs hard up the gut. Not much helmet cracking, might be orders to shave off some intensity. Hard to tell.
*McCoy disrupts a Ryan Fitzpatrick throw, bursting through on Jensen.
*Fitz steps up nicely on a blitz and has a passing lane. Flashing linebacker (?) appeared to register the pass breakup.
*Nothing-special run by Ronald Jones.
*America's Quarterback rifles a laser in the seam to undrafted rookie Sergio Bailey out of Eastern Michigan. He's had a good camp. Someone to watch Thursday night.
*Jameis short to Jacquizz Rodgers who jukes Riley Bullough for extra yards.
*BATDOWN! Vernon Hargreaves of Jameis. Hargreaves loves to celebrate everything.
*Nickel blitz earns a sack on Fitzpatrick. Joe couldn't see the blitzer but Fitz had no visible options.
*7-on-7 gets firing with Griffin underthrowing DeSean Jackson on a bomb deep left. Jackson had at least a few yards on undrafted rookie cornerback Marko Myers. Jackson walks very slowly back to the offensive side of the field. And it wasn't a hurt kind of slowly; it was the annoyed kind.
*Back in pass rush/block drills, Noah Spence, lined up on the right side, blows past tackle Michael Liedtke like he wasn't there. Literally. But Liedtke handles Spence on the next try.
*Very nice Fitz to Jackson for a TD, crossing route from the 5 yard line. Jackson liked that.
*Strike! Touchdown! Jameis unloads a fastball from 5 yards out to undrafted rookie Ervin Phillips.
*See Joe's video and story here on the JPP/McCoy pass rush game that was a thing of beauty against Dotson and Cappa. On the down side, Vinny Curry and Beau Allen running a pass rush game was sloppy and ineffective.
*Vinny Curry gets some disruption of the pocket on Donovan Smith.
*11-on-11 red zone sees a couple of clean TD scrambles by Fitzpatrick and Jameis Winston. Fitz's competitive juices must take over in those situations and he actually looks mobile.
*Chris Godwin has his way with rookie M.J. Stewart for a red zone TD grab. Godwin sure has all the attitude of a No. 1 receiver, but Joe needs to see him do it consistently in games.
*Tampa Bay icon/embarrassment Hulk Hogan is in the crowd and poses with several Bucs on the field after practice. Hogan tells Joe he wants a one-week, one-game contract.
*As hardcore Bucs fans know, former Colts head coach Chuck Pagano worked with the Bucs in a consulting capacity this week. He's an old friend of Dirk Koetter and his background is as a defensive backs coach — and player — and a D-coordinator. Joe cornered Pagano after practice and Pagano politely said he wasn't going to talk to media and it wasn't his place to comment on the team. Joe asked Pagano if he'd answer a question or two off the record for Joe's background info. Well, Pagano then proceeded to advise Joe that he learned a long time ago that there's no such thing as off the record and he wasn't going to go there. Joe then advised Pagano that not every media guy is a wretched snake and Joe simply had a question about a man Pagano coached who represents one of the great mysteries in Bucs history: Josh Freeman. The last NFL start by Freeman was for Pagano's Colts, a win that closed the 2015 season. Freeman never even got a training camp sniff in the NFL again. … Yes, Pagano talked to Joe about Freeman and it was all off the record. But Joe can share that Pagano didn't get Joe any closer to figuring out why 27-year-old Freeman fell completely off the NFL map after a successful return.