Titans-Bucs Practice News, Notes & Nuggets
August 16th, 2018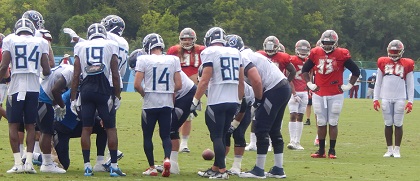 So what did you really miss at Bucs-Titans practice yesterday in Nashville, the only one in which the teams will be in full pads and really hitting each other?
Joe was out there patrolling. But Joe must caution you about any report you read anywhere. Two things (minimum) always were happening at once, as the teams worked on two fields simultaneously and sometimes three.
Regardless, here are plenty of nuggets from Joe's old school note pad.
*The Titans have an indoor weight room alongside their practice fields with an open garage-style door so players can watch the action and train. Vita Vea and Vernon Hargreaves spent a lot of time on the stationary bicycle. Vea had no support apparatus on his calf/ankle and he looks like he's dropped a few pounds, hard to tell, of course. But he looked that way as well back at the team hotel. Right tackle Leonard Wester is also seen on the bikes.
*Before practice kicks in, linebackers coach Mark Duffner is barking to the entire defense, "Snap after snap! Snap after snap! Snap after snap!"
*Davante Bond still on floppy hat patrol with Kendell Beckwith. The Bucs' linebacker depth is a question mark.
*Quick 11-on-11 tempo work in warm-up (Bucs on Bucs), often done by Koetter to get the juices flowing and it's a way of practicing substitution. Joe was right in the Bucs' bench area. So odd to see America's Quarterback, Jameis Winston, screaming "2s" and holding fingers up to get his unit on the field.
*The dancing feet of Charles Sims twice failed him in very basic drills. Not good, though Sims did put a 2015/2016 flashback during a read-the-cut drill done at nearly full speed.
*Todd Monken is lecturing about tempo, being dialed in to what it's supposed to be.
*Air conditioned benches on the Bucs sideline for about 20 players. Man, those felt cool on this muggy day. Joe didn't see any Bucs using them, though.
*Nearly all bleacher seating for fans surrounding about two-thirds of the field areas. Some are covered with cushioned seats (must be for the expensive-seat holders) and others are open. Strict rules for fans on taking photos/video in limited windows. And it is enforced! Hats off to about 40 Bucs fans wearing their colors proudly. That's more than Joe has seen in Jacksonville the last two years for joint practices.
*Titans linebackers are winning too often with Bucs running backs in 1-on-1, blitz-pickup work. Sims gets blown up. The rookies struggle but aren't too bad. Jacquizz Rodgers appears to be the top Bucs dog.
*Coaches seem to be on Alex Cappa and Caleb Benenoch on this day. Benenoch doesn't seem to be the same guy since whatever his injury was 10 days ago.
*1-on-1 receiver/cornerback work is a bit goofy. There's a gargantuan edge to the offense. So Joe can't go all oooh-and-ahh because Mike Evans worked over Logan Ryan and drew a flag on Ryan, or because DeSean Jackson caught a comeback route and looked sharp doing it. Sorry. Now Chris Godwin flat outmuscling rookie DB Dane Crulkshank on a 50-50 ball, that was very impressive.  The Bucs were sharp in this overall. It took a while for the first incompletion, Ryan Fitzpatrick to Chris Godwin.
*11-on-11 kicks up and look on the home page for the Ali Marpet back-to-back infractions. (See video) Fitzpatrack comes back with two short throws to Mike Evans, the latter a slant for a first down.
*Jameis fumbles the exchange with Evan Smith in second-team duty.
*Ronald Jones runs for no gain, followed by a screen to the right side for Jones that goes for about eight yards. No tackling to the ground allowed in practice.
*Joe moves to the other field and sees DE Will Clarke shining with the Bucs' third-team defense. There's also a little confusion in some plays for the Bucs. Mike Smith is screaming for recognition from his defense based on the Titans' offense.
*The first-team defense returns and Adarius Taylor makes a play. With Kendell Beckwith yet to practice and Bond injured, Taylor looks like a lock to start at strongside linebacker.
*Jason Pierre-Paul is slow on the get-off and is no factor off the edge. Deep pass complete by Marcus Mariota and it was a one-hand grab. Joe didn't see who hauled it in for the Titans.
*Noah Spence with a coverage sack that draws a lot of celebration from the Bucs bench.
*Bucs special teams coordinator Nate Kaczor heard screaming, "Ron, get your friggin' pads down!" Joe is assuming he was directing that at Ronald Jones, a frequent target of Kaczor's coaching.
*Read all about the Bucs' offensive line squaring off in 1-on-1 drills against the Titans D-line. (full story on the JoeBucsFan home page).
*Brent Grimes is walking slowly with his head down coming off the field. Mariota completed a slant in front of Grimes to big receiver Corey Davis, their 2017 first-round pick.
*Kwon Alexander, Gerald McCoy and JPP are having a heated Xs and Os-looking conversation on the sidelines. You can't say these guys don't care. … And the defense was sparked after that.
*Kwon knifes in on Derrick Henry in the backfield.
*SACK! Kwon up the gut on a blitz. Full collapse of the pocket around Mariota, too.
*JPP is jawing hard with tackle Taylor Lewan. Titans head coach Mike Vrabel himself comes over to get Lewan away. Joe learned later that JPP had embarrassed Lewan in 1-on-1 work before that play and dropped a ton of smack on him, including comments that he should be humiliated because JPP is missing fingers. (Joe's cleaning up a lot of language).
*Mike Evans and Fitzpatrick continue to display an ease and a chemistry. Jameis showing more zip on his passes.
*The Buccaneers' first-team defense and Justin Evans is in nickel with Jordan Whitehead at safety with Keith Tandy. Lots of communication issues and Evans is getting barked at on where to line up. That work just didn't look great. And part of that includes the Bucs getting looks for new cornerback De'Vante Harris, who just arrived from the Saints' waiver wire.
*Chandler Catanzaro does not miss a kick!
*Dion Lewis has some success running wide on the Bucs. Kwon and Ryan Smith finally team up to shut down a wide run. JPP and Kwon rack up another sack each and plenty of trash talk points.
*O.J. Howard draws a holding call on safety Kenny Vaccaro with the offense. Who can really cover that guy?
*Fitzpatrick and DeSean Jackson make a rare appearance with the third-team. Jackson goes in motion and the two connect for roughly a six-yard gain. Dirk Koetter spent his share of time yelling out third-down situations to work on, so that felt like a first down.
*Most Bucs bailed quickly after practice and got on the first bus headed to the team hotel. Jameis spent at least 25 minutes after practice working on throwing. And then he did a news conference. And then he headed off to greet the Bucs fans Joe referenced earlier for quite a long time.
*And there's more from yesterday's session on the home page.