"Chicks" May Not Dig Bucs WRs
August 16th, 2018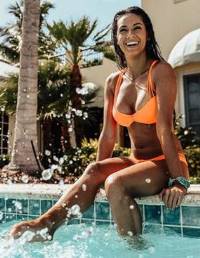 So Tuesday, just after practice at One Buc Palace ended and before Father Dungy had his press conference about his induction into the Ring of Honor, Joe decided to see what the good folks at Buccaneers.com were up to.
It seems they have decided to keep the "Hard Knocks" series going. Last year, the Bucs appeared on "Hard Knocks," the NFL Films-produced, HBO reality series chronicling an NFL team's training camp.
Many fans were outraged that the Bucs would allow such a thing and the same fans are convinced this series Pearl Harbored the Bucs' 2017 season.
(How "Hard Knocks" affected any game in November and December much less led to America's Quarterback, Pro Bowler Jameis Winston, injuring his shoulder, Joe will never figure out.)
Now the Bucs have a weekly video feature called "The Current." It is a Hard Knocks-light series that takes cameras behind the scenes and is exclusive to Buccaneers.com.
In the first offering, Bucs backup quarterback Ryan Fitzpatrick is seen playing around with his brood of children and throwing a pass to his son "Brady." Fitz gives his son future-life advice.
"Chicks dig yards-after-catch, Brady," Fitz tells his son as Brady goes out for a pass.
Well, if that is the case, good thing three of the top Bucs receivers are married. Last year the Bucs were No. 20 in YAC. That's almost mind-boggling given their talent.
The two players who led the Bucs in YAC were Charles Sims and Adam Humphries, just fractions apart, at Nos. 74 and 75 in the NFL, respectively. It doesn't bode well that a running back and a possession receiver lead the team in YAC.
Bucs coach Dirk Koetter is big on explosive plays. If the Bucs can improve their individual YAC, it just might also solve the lack of explosive plays as well.