Ira: "Bucs Dodged A Bullet" On Smith Injury
August 21st, 2018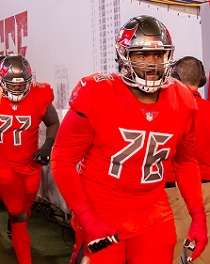 UPDATED: Good news, even if it's vague, is still good news.
Sage Ira Kaufman, JoeBucsFan.com columnist and Tampa Bay's only Pro Football Hall of Fame voter, is at One Buc Palace tonight for the "Red" event and Twittered that Donovan Smith's health status is leaning far away from season-ending injury.
My information is Bucs dodged a bullet with today's Donovan Smith knee injury. No surgery planned at this point and could be ready for New Orleans.

— Ira Kaufman (@IKaufman76) August 21, 2018
Time will tell.
If it is a knee or ankle injury and Smith can't practice until, say, the Wednesday before the opener, then it's fair to wonder just how ready Smith would be under that scenario.