Jason Licht Evaluates Ronald Jones
August 21st, 2018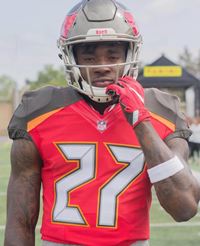 Joe and the Buccaneers' big shots haven't always agreed on the evaluation of the running back position.
See Doug Martin 2017.
You could also go back to the end of the 2015 season, when Joe was widely called a moron for a demanding the Bucs slap a 2016 franchise tag on Martin because he was an unreliable running back who could use the extra motivation of a short-term deal.
And one could go back to the Kregg Lumpkin days or the goofy three-headed committee back in 2009, the one that inexplicably gave Derrick Ward eight times more carries than Earnest Graham.
Now Joe is confused by another Bucs running back assessment.
Tonight at the Buccaneers Women of Red event at One Buc Palace, general manager Jason Licht addressed the crowd and, per Buccaneers.com writer Carmen Vitali, assured fans that rookie RB Ronald Jones has been having a strong training camp.
And the kicker in the Tweet below was Vitali noting that Licht seems to disagree with the media's summer evaluation of Jones.
Jason Licht is now up for Chalk Talk – assuring fans that @rojo has been doing real well in camp… despite what media reports you may hear/see. I'll second that 🙋🏻‍♀️

— Carmen Vitali (@CarmieV) August 21, 2018
Joe's not here to bash Jones, who has been catching the ball better in practices recently and has been lauded for his work ethic. But Joe can't imagine the Bucs are getting what they expected so far from the No. 38 overall pick. No way.
Joe's eyeballs see Jones having a nothing-special camp, which is why Joe was not stunned to see Jones with 12 carries for 11 yards through his first two preseason games.
Hopefully, Licht was referring to a recent uptick in Jones' practicing that will show up Friday against the Lions. What a great confidence boost it would be for the kid to bust a couple of runs.