Koetter Calls Friday A 10-90 Day
August 3rd, 2018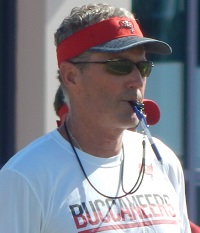 There are winners and losers every day in training camp. A head coach has to keep a balanced mentality.
However, today was very much a tilted affair.
Dirk Koetter's offense came up short big time. The coach said it was a "10-90" percentage swing in favor of the defense.
"No, it was not a sharp day for the quarterbacks (laughs). It was not a sharp day for the offense in general," Koetter said.
You can read Joe's practice notes later. The defense racked up its share of Ws and continues to play with its share of swagger. It's a very lively bunch. It helps to have a lot of young legs at linebacker and cornerback, along with great competition on the defensive line.
Yeah, it's practice.
Joe is fired up for the first preseason test in six days, when reality will slowly start to come into better focus.