Keep An Eye On P.J. Williams
August 30th, 2018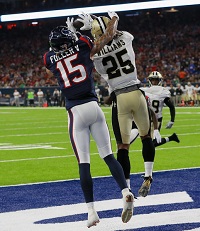 It's a very safe bet that the Buccaneers' 53-man roster following Saturday afternoon's cuts will look different come Sunday night.
That's just the NFL.
One of the best examples was 2014 Bucs rookie returner Solomon Patton. In roughly one week's time, he was part of the Bucs' final cuts that summer but was then re-signed and played for Tampa Bay on opening day.
Rosters shuffle every year as more than 1,000 NFL players get released after the preseason and teams start to gobble some of them up and make room to do it.
So where might the Bucs turn?
Joe's already shared a belief that the Bucs will attempt to find offensive line help, specifically at tackle.
Cornerback is a possible target, too, and Joe's got an eye on Saints cornerback P.J. Williams, their third-round pick out a Florida State in 2015.
A hamstring derailed Williams' rookie season and a concussion put him on IR as a second-year starter, but he played in 16 games last season with two interceptions and nine passes defensed. And he was contributor in two playoff games.
The Saints, though, appeared to give up on Williams in the offseason after signing Eagles cornerback Patrick Robinson in free agency and drafting two defensive backs.
Williams, 25, busted up a rib in the Saints preseason opener but he has returned and likely will play tonight against the Rams. ESPN Saints reporter Mike Triplett projects Williams won't make their 53-man roster.
As much as the Bucs scouted Florida State in 2015, and are familiar with the Saints, Joe wonders whether there's interest in pouncing on Williams if the Saints cut him. There's always that hunger to get a player from your opening day opponent and to pump all the information out of him you can.
Plus, Williams does have a better resume than Ryan Smith, for example, though Joe has no clue about Williams play on special teams.
Joe's just tossing a name out there that might make sense. And yes, Joe realizes Williams had his share of run-ins with the law at Florida State, but old transgressions don't seem to halt the Bucs' interest.