The Whitehead Shine — And Why It's Troubling
August 10th, 2018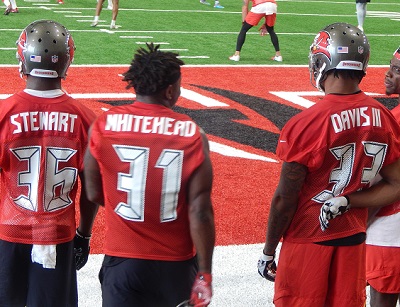 With all the positives out of last night's game, Joe was actually fired up most about rookie safety Jordan Whitehead, the Bucs' fourth-round pick who happens to be Darrelle Revis' cousin.
If you tuned out after the starters left the field in Miami, you missed quite a display. Whitehead came out to hit hard — and he did. And best of all, he didn't get a penalty.
Whitehead's first crushing blow sent him to the concussion protocol tent on the sidelines but he was back quickly. That means the doctors believed his brain was just fine.
Whitehead finished with two solo tackles and two passes defensed. And he drew Dirk Koetter's praise during Koetter's brief postgame news conference.
Watching the intensity in Whitehead's play immediately had Joe wondering, 'Why is this kid standing out so much? Shouldn't someone else in the Bucs' back-7 be matching his fire?'
Joe's not calling the Bucs a bunch of loafers and softies, but the question is worth pondering. Koetter has said he wants a "badass" football team. To get there, he might need a couple more defensive players getting after it like Whitehead did last night.