Job Won?
August 25th, 2018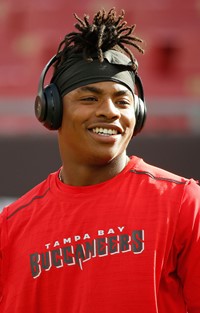 Joe's going to make a call here and say Vernon Hargreaves has locked down a starting job on opening day opposite Brent Grimes.
It's not so much that Hargreaves has been special this preseason and summer, but he looks like he might be back at least to his 2016 rookie form — and that was good enough for him to be part of the NFL's best third-down defense that year. And while he certainly wasn't great then, he wasn't garbage, either.
Last night, Hargreaves' tackling started off poorly but he did have a nice solo tackle of LeGarrette Blount later in the game. Hargreaves is not much of a tackler but his willingness is there. One could also say he got away with an end zone hold of Lions receiver Golden Tate in the second quarter, but that's debatable and Hargreaves' coverage there did stall a Lions' drive.
Joe thinks rookie CB Carlton Davis has not done enough to convince coaches he's the opening-day guy, and M.J. Stewart is banged up. Brent Grimes sat last night out healthy (presumably) alongside Stewart.
Plus, the Bucs really want Hargreaves to win that job, at least out of the gate.
If Hargreaves indeed starts outside, Joe is confident Hargreaves will move inside to nickel on pure passing downs.
The good, Joe believes, is that the Bucs will be quick to pull the plug on anything at cornerback (outside of Grimes) in order to get the most effective guys on the field.