"I'm Excited Where His Mind Is Right Now"
March 1st, 2018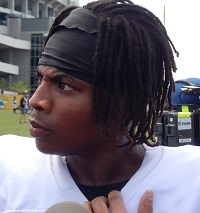 It's extremely rare to find a supremely talented second-year cornerback, a first-round pick with speed in tight spaces and straight-away, to get benched on the worst defense in football.
That's like five red flags in one right there.
And that's what happened to the No. 11 overall pick in the 2016 NFL Draft last season, Vernon Hargreaves.
His coaches waved a white flag after watching get burned repeatedly on the outside. Hargreaves was moved to a part-time role inside and then was lost for the year with an injury.
Bad coaching? Likely. Wrong attitude? Likely. Confidence-issues? Likely. Just not worthy of the No. 11 overall pick? Likely.
It's not looking good for Hargreaves' future, but he's just 22 years old and there is zero reason to give up on him. His rookie year was decent — for a rookie.
Yesterday at the NFL Scouting Combine in Indianapolis, general manager Jason Licht dropped an interesting nugget. He said he talked to Hargreaves a lot at the close of last season and the GM said, "I'm excited where his mind is right now."
That's kind of an odd take. If Joe were reading between lines, Joe would assume Hargreaves' mind wasn't in the right place earlier in the season.
Making a list of X-factors for 2018? Put Hargreaves in your top-5.