Ira Kaufman's 10 Takeaways From Bucs-Lions
August 25th, 2018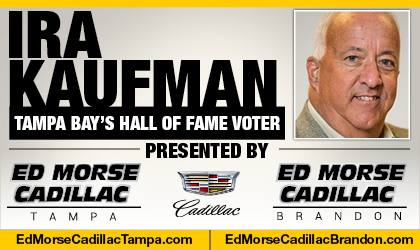 BY IRA KAUFMAN
The Bucs came within 30 seconds of their first 3-0 preseason start since 1999, when they advanced to the NFC championship game.
Let's not get carried away, I don't see the second coming of Warren Sapp, Derrick Brooks or Ronde Barber out there, but I don't see a 5-11 club, either.
Tampa Bay's 20-6 halftime advantage was well deserved because the Bucs outplayed the Lions in all three phases. The start of the game was delayed an hour by dodgy weather, but the real storm front was an offensive line that manhandled Detroit on the opening drive.
If you didn't see the game, shame on you. Here's what you missed:
* Good for Adam Humphries, who does all the dirty work in the middle of the field without much recognition. Humphries broke clean on a 109-yard TD return off a missed FG try, making moves Barry Sanders would be proud of. The jubilation of his teammates on the sidelines tells you everything you need to know about what No.10 means to this club.
* That sorry look on the mug of Matt Patricia as the first half ended said it all, a forlorn face that begged the question: I left Brady and Belichick for this crud?
* I spent much of the opening half checking out the progress of rookie Alex Cappa, who started at right guard. When Cappa gets his powerful hands on you, he usually owns you. But when he has to operate in space, Cappa struggles with mobility and quickness. He's got much to learn about the pro game, but this kid's got a chance to develop into a keeper.
* Ronald Jones was obviously tired of hearing about suspect hands and lack of polished pass routes. The Lions tried to cover him with a linebacker and paid the price with a 37-yard catch down the left sidelines. That reception should do wonders for Jones' confidence while silencing his skeptics for awhile.
* Tampa Bay's rush defense continued its stout play, allowing only 33 yards on 12 first-half runs. Admittedly, the Lions are usually near the bottom of the league rushing statistics every season, but there's  no denying that the addition of Jason Pierre-Paul has made a major difference.
* Peyton Barber capped his impressive preseason with another example of tough, no-nonsense running. Unlike some other Buc backs of recent vintage, Barber hits the hole quickly and with authority. On his 14-yard TD run off right tackle, he eluded former Gator LB Jarrad Davis, a first-round pick in 2017. Barber is the kind of honest RB the horses up front love to block for.
* Ryan Fitzpatrick rebounded from a subpar game against the Titans with an efficient performance. He completed his first six pass attempts before finally missing a throw late in the opening quarter and taking a seat. He's done until the Bucs roll into the Big Easy, looking to spring a big upset.
* The Bucs wisely gave Brent Grimes the night off and I didn't see much of Noah Spence. Grimes doesn't need the work. Spence does, and he got plenty very late in the game against third-teamers.
* All Chris Godwin does is make plays. On Friday night, he turned oneof the NFL's premier corners inside-out, beating Darius Slay in the right corner while hauling in Jameis Winston's 10- yard pass. There were 32 wide receivers selected in the 2017 draft and Godwin is well on his way to establishing himself as the best of the bunch.
* The Bucs could have guaranteed themselves their first winning preseason since 2008, Jon Gruden's final year on the Tampa Bay sidelines, but the Lions rallied late for a 33-30 triumph. Nobody will remember these games in two weeks, but the confidence gained by dominating with your starters won't soon be forgotten.
Now in his 40th year covering the NFL, Ira Kaufman is the most revered sports personality and writer in the Tampa Bay area. He scored a full-time seat at JoeBucsFan.com world headquarters in July of 2016. Tampa Bay's only Pro Football Hall of Fame voter, Ira busts out columns here every Monday, Wednesday and Friday, and his award winning podcasts fire Tuesdays and Thursdays. You can also hear Ira on SiriusXM Mad Dog Radio Wednesdays at 5 p.m. during football season. Also a TV star, see Ira now on Mondays at 10:30 p.m. on Spectrum Sports 360 (aka BayNews 9). Ira also is part of the FOX-13 Tailgate Sunday NFL show and enjoys beet salads, Riesling, tennis, Chiefs victories and needling Joe.