"He Listens"
August 29th, 2018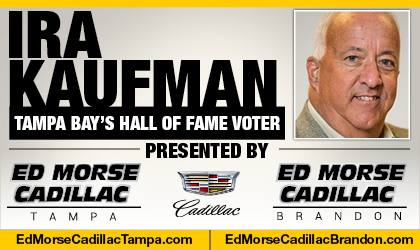 BY IRA KAUFMAN
The right knee of Donovan Smith will determine Tampa Bay's starter at left tackle in New Orleans. If Smith is cleared by the doctors, he figures to be charged with protecting Ryan Fitzpatrick's blind side.
That's a medical issue. The murky situation at right guard is a competitive issue.
And don't count out the big lug from Humboldt State. Alex Cappa, a 6-foot-6 converted tackle, didn't look out of place at guard during the first half of Friday night's preseason matchup against Detroit.
This guy looks like a wrestler and attacks like a linebacker. He's all hair and hands and when Cappa gets his massive paws on you, he's usually in control.
Caleb Benenoch was supposed to grab this job by the cojones, but a lingering knee injury has opened the locker room door for Cappa, who was the first Lumberjack ever invited to the Senior Bowl.
"He's a young kid who is coming along very well," says center Ryan Jensen, who attended Colorado State-Pueblo. "He's going to be a very good football player. Coming from a D-2 school, just like me, once you get here you want to take advantage of it."
Veteran Evan Smith is also in the mix and it will be interesting to see who gets the snaps at right guard Thursday night against the Jaguars.
Can the Bucs be serious about starting a D-2 and a D-3 guard (Cappa and Ali Marpet) against a division rival on the road in one of the NFL's loudest venues?
Yes and yes. I asked the guy on the other side of Cappa what he thought of big No. 65.
"He's young and he's going to get better," says Demar Dotson. "With any rookie, especially from a D-2 school, there's going to be some ups and downs. But Cappa's working hard every day. One thing about it, the guy's going to be a good football player. He's smart, he's physical and he listens."
Humboldt State's campus is in Arcata, Calif., 280 miles north of San Francisco. It sounds like Cappa got out just in time because the school announced this summer that the football program will be discontinued after the upcoming season due to financial considerations.
"That's crazy," says Jensen. "Given what just happened, how he plays means a lot for Alex and for his school."
Enjoying The Punishment
At the moment, Cappa prefers for his play to do the talking. Sensing he has a real shot at a starting role between Jensen and Dotson, he is appreciative of the opportunity.
"I felt good out there, excited to be able to play a lot," Cappa said after his extensive playing time against the Lions. Obviously, I've got a lot of things to work on. It was fun to come out and start hot as an offense. Peyton Barber runs hard. He's downhill and he's going to punish somebody when he gets the chance."
That's also an apt description for Cappa, who built a reputation for physicality in four years at Humboldt State, where he arrived as a 240-pound freshman. The Bucs moved up eight spots to draft the 305-pound mauler near the end of the third round.
Since then, Cappa has worked hard to move up in class. In the process, he's done a heck of a job moving up the depth chart.
Now in his 40th year covering the NFL, Ira Kaufman is the most revered sports personality and writer in the Tampa Bay area. He scored a full-time seat at JoeBucsFan.com world headquarters in July of 2016. Tampa Bay's only Pro Football Hall of Fame voter, Ira busts out columns here every Monday, Wednesday and Friday, and his award winning podcasts fire Tuesdays and Thursdays. You can also hear Ira on SiriusXM Mad Dog Radio Wednesdays at 5 p.m. during football season. Also a TV star, see Ira now on Mondays at 10:30 p.m. on Spectrum Sports 360 (aka BayNews 9). Ira also is part of the FOX-13 Tailgate Sunday NFL show and enjoys beet salads, Riesling, tennis, Chiefs victories and needling Joe.