"Four Seconds, Need A Touchdown"
August 2nd, 2018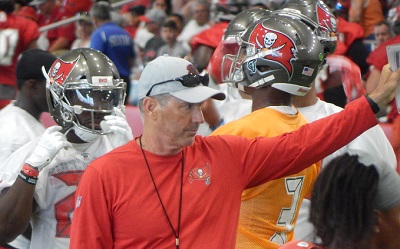 Plenty of high-stress work at today's underwear football/indoor training camp practice at One Buc Palace.
Fans in the stands may not have realized just how stressful the calls were. Dirk Koetter explained after practice that they a cluster of plays from various distances had the offense in "four seconds, need a touchdown, last play of the game" situations.
"So from an offensive standpoint, very difficult plays to score. If you noticed, the defense had a lot of players in the end zone. So those are tough situations and, you know, the defense is going to win most of those," Koetter said.
And they did.
The Bucs are just one week from the preseason opener in Miami. More an more situational work will be phased into practice now, especially on days like this out of full pads.