"He's Been Giving Every Player An Opportunity To Get A Definition Of Discipline"
August 17th, 2018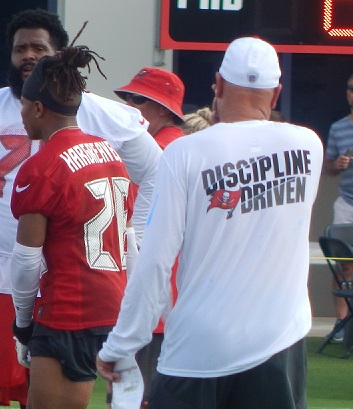 Dirk Koetter brought what appears to be his favorite August shirt to Tennessee for practice this week, but the head coach took a pass on Joe's question Wednesday about its deeper meaning.
But other Bucs have been willing to talk about it.
It's been a few weeks since Joe shared the new theme of the year for your Bucs: "Discipline Driven."
Koetter presented it to players at the start of camp, and he and coaches have been wearing shirts like the one you see in the photo above.
It's an interesting psychological play, and Joe bases that on several conversations with players about the theme. Koetter believes this Bucs team is dripping with talent and he believes playing a fat stack of close games against good teams last year means you're oh so close becoming a winner. An extremely heightened focus on discipline, Koetter thinks, represents a major fix waiting to happen. Hey, if you have the horses, and capable coaches, and players simply do their jobs, then everything will take of itself.
It's a nice concept, though Joe finds the close-games chatter to be a pile of hooey.
Regardless, this summer has been about discipline, discipline, discipline.
What Joe finds interesting about Koetter's mantra is that he's very much letting players define discipline for themselves and then own it completely.
It's not a cookie-cutter mentality that only applies to in between the white lines, Gerald McCoy explained to Joe yesterday.
"He's been giving every [player] an opportunity to get a definition of discipline. Everybody's definition of discipline is different," McCoy said. "There's not one way to explain this approach to fans, but regardless as a whole, our discipline has to be better than it's been in the past in order for us to get where we want to get."
Lavonte David explained to Joe that it's an off the field focus as well as on the field, and it's become a different way for some guys to view themselves as professional football players.
Joe invested the keyboard time into this because it's a clear emphasis through Koetter's 2018 program. Joe would love to learn more. But Koetter wants Joe to wait it out.
"That'll be a very long talk and I'll just pass on that one," Koetter said.
Joe just hopes this all works and translates into a healthy diet of Ws before November. The potential in this roster is too high to tolerate another early mess.