Bucs Have New Locker Room Theme
July 28th, 2018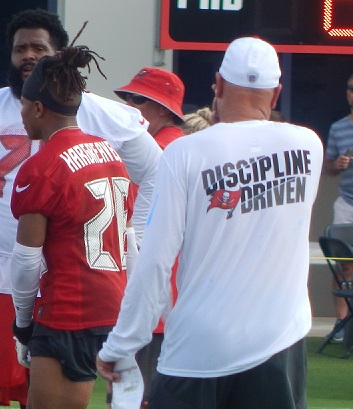 There's an interesting summer theme inside the gates of One Buc Palace.
It's a lot better than Lovie Smith's "California Dreamin'" slogan rolled out years ago.
Dirk Koetter wants everyone "Discipline Driven." Koetter was wearing that big and bold on the back of his t-shirt today and various members of his staff had it on yesterday, even some players after practice.
Joe talked to many members of the Buccaneers about this and it's clear that it's a message that includes an on- and off-the-field approach and mentality.
Kwon Alexander was very firm with Joe in how he interprets the message. "This is a veteran team that knows what to do. Our coaches are back. We know what works and what doesn't, so now go do what works every minute of every day. Discipline is nothing new to me, but it's a great way to think about everything your're doing. I like it."
Joe asked Adam Humphries what it "Discipline Driven" means to him.
"We've had Lavonte [David] speak on it [to the entire team]. Mike Evans spoke on it yesterday. I think it means different things to everybody, but it was good to hear their opinions," Humphries said.
"You know, to me it's discipline in what you do off the field and what you do on the field is very key, but it's just the consistency in how you do it. Can you do it every down. Just keeping that word discipline in your mind when you approach every practice, every play, when you're watching film and you're sitting in meetings, I think that's the key to the motto that we have this year, just bringing that consistently to every aspect of life."