Should Bucs Fans Be Concerned?
August 9th, 2018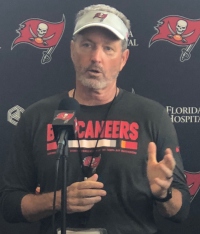 Dirk Koetter is a no-nonsense guy. If you ask him a question, you will likely get a (good), direct answer. Or you might get a short, bark of a retort. Far more often than not, Koetter is patient with sometimes uncomfortable questions from reporters.
Joe will take direct answers over coachspeak and dodging cliches any day all day.
Last year, after many Bucs training camp practices, Koetter often kvetched that the practices were less than crisp. Just about every person in the local fourth estate ignored his words (Joe raises his right hand to confess his guilt in this area as well).
In fact, Joe isn't sure of anyone that heeded Koetter's words.
And look at what happened after the Bucs flew to Minnesota for Game 2.
Well, this training camp, more than once, Koetter has mentioned that the Bucs offense has been flat. Or at least the defense outplayed the offense. In fact, during one practice, Koetter said it was 90/10 in favor of the defense (as opposed to an even 50/50 split).
Yeah, individual offensive players have shined. Koetter has lauded O.J. Howard for having a strong camp. Chris Godwin has flashed almost every day. Koetter also noted America's Quarterback, Pro Bowler Jameis Winston, has been passing better and his passes are finishing better than in the past when they sort of wobbled. In one-on-one drills, Ali Marpet looks like a beast.
Given how Koetter's analysis of practices last year proved all too fateful, should Bucs fans begin to worry about the offense getting outplayed in early August?