Asking The Questions Other Rookies Don't
August 9th, 2018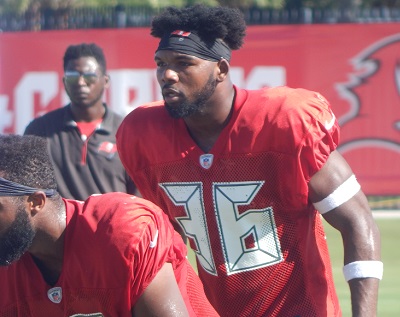 A couple of renowned Bucs have been talking independently about standout (so far) rookie cornerback M.J. Stewart.
It's quite early to be doing backflips for the No. 53 overall pick, but the evidence is adding up on the practice fields of One Buc Palace and from assorted chatter.
Iconic Ronde Barber was a recent guest on the Salty Dogs podcast at Buccaneers.com and talked about watching Buccaneers practice film in preparation for his Bucs preseason broadcasting gig. Barber said he can see that Stewart isn't showing much of a learning curve.
Then there was Lavonte David on WDAE-AM 620 this week talking about how Stewart is a rookie asking questions — good questions — in film sessions that rookie very rarely ask. It really made an impression on David.
And, as Joe has written, Stewart certainly looks solid in practice, especially for a rookie against a very talented group of receivers and tight ends.
For Bucs fans who haven't attended a training camp practice, definitely watch for No. 36 tonight. Joe knows the Bucs want to get him a load of playing time.