Bucs Clam-Up Extends To Broadcast; Nat Moore Laughs At Jameis Suspension
August 11th, 2018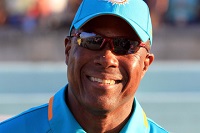 Dolphins broadcaster and former Pro Bowl wide receiver Nat Moore seems to think a man getting suspended from the NFL for grabbing a female Uber driver's crotch without permission is funny.
Just go to the 12:35 mark of the Bucs-Dolphins broadcast (the Miami-based edition) on Thursday night. Announcer Dick Stockton tells the audience that Jameis Winston, America's Quarterback, has been "suspended for we'll just say misconduct." And that drew an immediate and strong laugh from Moore, a game analyst in the booth alongside Bob Griese.
"That's all I'm going to say," Stockton said next.
Moore replied, "OK."
Classless move by Moore. What exactly is he laughing at?
Regarding the Bucs' TV broadcast on on WFLA-TV, raise your hand if you heard why Jameis Winston, America's Quarterback, was suspended for three games to start the season?
Joe sure didn't.
Yes, announcers Ronde Barber and Chris Myers are hired by the Buccaneers, so this was no huge surprise. But heck, Joe didn't even hear those guys give a generic reason for the suspension, you know, for the casual viewer and fan who might not have a clue.
Is that what this has come to?
What's everyone afraid of saying?