Jimmie Giles Advises O.J. Howard Don't "Flinch"
August 27th, 2018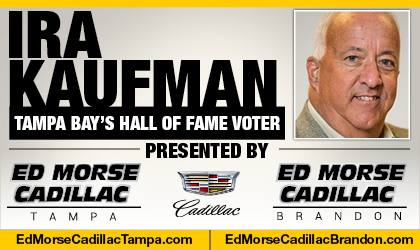 BY IRA KAUFMAN
Jimmie Giles gazed out at the field behind One Buc Place a few weeks ago and had a flashback moment.
For just a few glorious seconds, Giles looked at No. 80 gliding past defenders and thought he was back in the NFL, earning four Pro Bowl berths within a six-year span in the early 1980s.
Yes, second-year tight end O.J. Howard commanded the attention of Giles, who was the third member inducted into Tampa Bay's Ring of Honor.
"Tremendous talent, tremendous specimen," Giles says. "O.J. has the ability and the speed to become an All-Pro."
The Bucs didn't have a dire need at tight end entering the 2017 draft because Cameron Brate had already established himself with 57 receptions, including 8 TD catches. Still, Howard was deemed too good to pass up after starring at Alabama.
Howard turned in a solid rookie season with the Bucs, averaging 16.6 yards per catch and reaching the end zone six times.
"At Alabama, he was a big-play guy, a player who came up big in big games," Giles says. "He has that potential, but what he has to realize is that in the NFL, it's a big game every Sunday. You have to keep your intensity every single play because if you don't, you end up getting hurt. I'm excited about this guy."
So are the Bucs, who saw Howard pick up first downs on each of his two receptions against Detroit Friday night. At 6-foot-6 and 251 pounds, Howard is bigger than Giles and probably just as fast.
Fearless = YAC
Back in the day, Giles shocked NFL defenses with his downfield speed. Tight ends who stood 6-3 and weighed 240 weren't supposed to catch passes of 80 and 81 yards.
In a playoff game at Dallas, Giles grabbed a 75-yard strike from Doug Williams, one of the few bright spots in a 38-0 drubbing.
"One of the things I'd like to see O.J. do is not think about the first contact, which will allow you to get extra yards after the catch," Giles says. "Believe me, defensive backs and undersized linebackers do not want to hit a big guy like that. If he just makes up in his mind not to even flinch on that first hit, he'll find himself with five or six extra yards, absolutely.

"One of the things I always did and I like to see a young kid do is in practice, catch the ball, feel the contact and run to the end zone. Every single time — so it becomes a habit. Then you won't even think about it in the course of a game and you'll be surprised by how many times you'll break free. I've never seen guys practice it, but I made a habit of it. Guys used to ask me, why do you do that? I did it because then in the game, it really becomes easy because people expect you to go down, and you keep going."
Like Giles, Howard isn't just a big man who can move. He prides himself on his blocking and he's working hard to be more precise.
Creating Nightmares
"It goes right back to our details," Howard says. "Coach Monk [Todd Monken] always stresses so much in this camp [to] always have the details of your routes down. No matter who's at quarterback, if you're in the spot where you're supposed to be in with your steps, the ball's going to be there. I think if you do that, it doesn't matter who the quarterback is."
For Buc opponents 35 years ago, containing Giles was Job 1 on defense.
Giles didn't have a lot of help, but Howard is blessed to be surrounded by a talented corps of targets.
Dirk Koetter can't complain about the array of weapons at his disposal. The big challenge is keeping everyone happy.
"I don't think a 2-tight end alignment would hurt the Bucs because you can use Brate like an H-back," Giles says. "If you move him all around, you can create nightmares for that defense. I see a tremendous opportunity for the Bucs to do well this year, despite what the odds say."
Now in his 40th year covering the NFL, Ira Kaufman is the most revered sports personality and writer in the Tampa Bay area. He scored a full-time seat at JoeBucsFan.com world headquarters in July of 2016. Tampa Bay's only Pro Football Hall of Fame voter, Ira busts out columns here every Monday, Wednesday and Friday, and his award winning podcasts fire Tuesdays and Thursdays. You can also hear Ira on SiriusXM Mad Dog Radio Wednesdays at 5 p.m. during football season. Also a TV star, see Ira now on Mondays at 10:30 p.m. on Spectrum Sports 360 (aka BayNews 9). Ira also is part of the FOX-13 Tailgate Sunday NFL show and enjoys beet salads, Riesling, tennis, Chiefs victories and needling Joe.