Special Attention
July 16th, 2018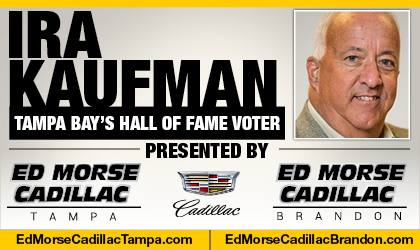 BY IRA KAUFMAN
We've been focused for much of the offseason on bulking up the trenches and wondering whether rookie Ronald Jones can inject some life into a listless ground attack.
But there's another aspect of Tampa Bay's play that requires an immediate boost.
It's a hidden part of the game that demands keen coaching and willing role players.
Let's take a close look at these shaky special teams.
Rick Gosselin already has. Based in Dallas, Gosselin has reported on the NFL for more than 40 years and his annual special-teams rankings are generally considered definitive.
According to Gosselin's chart, Tampa Bay's special teams ranked 21st as he evaluated performance in 22 categories. Sitting at No. 1 overall are the Rams, who used stellar special-teams play as a springboard to an 11-5 record and an NFC West title.
In other words, special teams matter. They can win you a game or two — or lose you a game or two.
Looking back over Tampa Bay's lost decade, it becomes clear that all aspects of special teams play need a boost. Whether it's a slew of missed field goals or losing the battle for field position, the Bucs have been operating at a disadvantage.
Let's start with the kicking game, shall we?
Maddening Math
In the past three years, the Bucs have converted only 76-of-105 FG tries, a dismal 72 percent success rate. Thank you Kyle Brindza, Roberto Aguayo and Nick Folk.
In that same span, Buc opponents made 84-of-100 FG attempts. You don't need a degree from Harvard to place that conversion rate at 84 percent.
Yes, opponents tried five less field goals and made eight more. So here comes Chandler Catanzaro to try to stabilize a position that has haunted the Bucs since Matt Bryant departed in 2009.
"Chandler has two really good years and one that wasn't as good," says special teams coach Nate Kaczor. "So, a guy that's done it as long as he has, he's got enough experience where he's not what you'd say green, but he's not old either. So, I think he's in the prime of his career. He's been a consistent field goal kicker.

"He's gotten better at his kickoffs and his kickoffs are definitely good enough and as you know, we like to have both good kickoffs and field goals. You want it all and you also know that we've had a few kickers here. too."
While Bryan Anger remains a solid punter, his play fell off last season as he lost more than 3 yards per net punt from his 2016 form. And instead of dropping 37 punts inside the 20, Anger accomplished that feat only 24 times last year.
In terms of net punting average, the Bucs have outperformed their opponents only once (2016) in the past six years.
How about taking a punt or a kickoff to the house? Not likely.
The last time a Buc scored a touchdown off a punt return, Micheal Spurlock was racing 77 yards at New Orleans in 2009. In case you were wondering, kickoff returns aren't any better.
Glazers Watching
In the past eight years, the Bucs have scored only once on a kickoff return (Mr. Spurlock again, 2010) while being burned four times. Tampa Bay was torched for a kickoff return score in each of the final two games last season.
"Probably the most frustrating about that is we were having good success with that unit and at the end of the year without being too specific, there were some dynamics that changed with personnel," Kaczor said. "A lot of it was health related and obviously hang time at times. It was never really one thing, but how it all works together, some of that got breached a little bit. I've got to get them doing it exactly right."
Even when the Bucs tried to add a dynamic return man through the draft (Kaelin Clay in 2015), they ended up releasing him one week into his rookie season. And yes, this is the same Kaelin Clay who has gone on to return two punts for touchdowns in the NFL.
It's easy to downplay the importance of special teams, but it's an area the Bucs need to improve dramatically this fall. They don't have a choice because Mr. Gosselin will be watching very closely.
So will the Glazers.
Now in his 40th year covering the NFL , Ira Kaufman is the most revered sports personality and writer in the Tampa Bay area. He scored a full-time seat at JoeBucsFan.com world headquarters in July of 2016. Tampa Bay's only Pro Football Hall of Fame voter, Ira busts out columns here every Monday, Wednesday and Friday, and his award winning podcasts fire Tuesdays and Thursdays. You can also hear Ira on SiriusXM Mad Dog Radio Wednesdays at 5 p.m. during football season. Also a TV start, see Ira now on Mondays at 10:30 p.m. on Spectrum Sports 360 (aka BayNews 9). Ira also is part of the FOX-13 Tailgate Sunday NFL show and enjoys beet salads, Riesling, Chiefs victories and needling Joe.