Lavonte David Talks 2017 "Situations"
July 22nd, 2018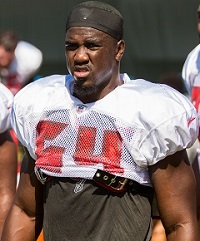 Perhaps the biggest hurdle the Bucs must overcome is their collective mental weakness.
It's been a trademark of the Lovie Smith/Dirk Koetter eras.
Here are the Bucs' records in the first-halves of the past four seasons — in order from the kickoff of the Josh McCown era through the arrival of Koetter and America's Quarterback, Jameis Winston: 1-7, 3-5, 3-5 and 2-6 last year.
In three of those seasons, the Bucs were a better team in the second half of the campaign. In 2015, they equaled their 3-5 mark in the second half, which including losing their final four games.
Those are signs of a team with chronic mental issues. And you can bet its why general manager Jason Licht, in his fifth season building the roster, put in extra effort this offseason to bring in lunch-pail-type workers that didn't grow up with the" five-star virus."
Many of the 2018 additions are supposed to be the kinds of tough guys that will grind the same way whether the team is 1-3 or 3-1.
Joe hates associating the Bucs' mental weakness with Lavonte David, but he brought it on himself. Consider what David said about the first defensive snap of the "Tennessee Ready" game to open the 2015 season. It's still one of the most stunning quotes in Buccaneers history.
"We played a little passive after that first play," David said. "I think after that penalty, kinda like killed our momentum. Because we wanted to come out and be physical, and that was the statement of the game there.

"Major [Wright] coming out being physical. After that happened he got the flag, 'We were like, oh, man. We can't, you know, come out and do what we wanted to do.'

"We kind of let that get to us a little bit. We can't let that affect us, you know. Every time we're on the field, we gotta be the most dominating, be the most physical. Obviously, that wasn't the case."
Last week, Buccaneers.com did a Q&A feature with David and he touched on many topics. One was the closeness of this year's defense and how its trying to build good accountability habits after clear failures last season.
David referenced "situations" that weren't addressed properly.
It seems like your entire unit is pretty close.

LAVONTE DAVID: Oh yeah. It feels like college. The whole defense is real tight. Everybody hangs out with each other. There's no bad blood between anybody but it's a good thing, though. It transfers to the football field. Say I know you're not doing something right. I can tell you about it and you won't get insulted by it. It comes from love, it's constructive criticism. That's a good thing. That's the main thing we wanted to harp on this year because last year we had situations where people weren't doing what they were supposed to do and we weren't really getting on them about it. We would tell them but we weren't getting them like we should. This year, we are all close enough. We're all trying to go to the same place. I'm not going to tell you anything that's going to mess you up. Kwon reached out to me saying I need you to get on me more, let me know if I'm doing something that I can do better, just let me know. I said I need you to do the same thing for me. …
Joe could spray a lot of blame around for the "situations" David referenced, but ultimately they all fall on the head coach.
This team just has to get tougher from top to bottom, and it seems they all know it.
Joe sure hopes every power player associated with the Bucs learned from the multitude of lessons that last season served up.