Kwon With The Interception!! Dirk Koetter Reacts
July 31st, 2018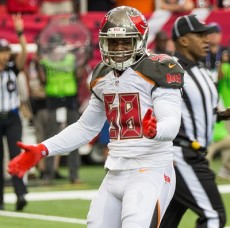 There's a pattern brewing at Buccaneers training camp through five days of work.
Yes, it's early, but it's real and Dirk Koetter acknowledges it.
The offense is starting slow and finishing big. Joe is not surprised because that's how Koetter offenses have trended through his two seasons as head coach. The Bucs have been rather impotent in the first halves of games.
After practice today, Joe asked Koetter about the defense's quickness and Kwon Alexander's interception of a short Ryan Fitzpatrick dumpoff pass over the middle. It appeared to hit a lineman in the shoulder area and then rebound directly into Kwon's gut.
"The defense got off to a fast start today," Koetter said. "That's kind of the pattern we've been in here the last couple of days, fast start by the defense and then the offense has finished a little better in the second half. You know, we'll just have to keep talking, we need the offense to start a little faster and we need the defense to finish a little better."
Welcome to the conundrum of training camp. When one side wins, the other side loses.
At least new kicker Chandler Catanzaro is breaking the tie in a good way. He has been money and was perfect again today from various distances.