Jameis Winston Fires Back At Greg Auman
July 13th, 2018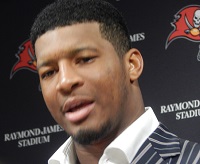 Earlier this week, Joe shared the words of NFL super-insider and Hall of Fame voter Peter King, who said Jameis Winston, America's Quarterback, should return to the Bucs "with his tail between his legs."
It seems Tampa Bay Times writer Greg Auman has a similar mindset.
Auman firmly believes a t-shirt worn by Jameis' personal trainer, seen via a workout/motivation video on Jameis' Instagram feed today, was controversial.
The shirt appears to be in the style issued by the NFL Players Association and reads  "JAMEIS AGAINST THE WORLD" on the front.
Auman typed a whole story about it that included the following paragraph:
The shirt's use here might be simple motivation for Winston — teams often create an "us against the world" mindset to build a group closer together.For some fans, the message wasn't what they wanted to see from someone who publicly apologized for actions that led to a three-game suspension, after strongly denying any wrongdoing when initially accused. Reaction on social media Friday was divided and strong from both sides.
Among other laughs, Joe got a good one out of Auman's choice of phrasing with "the shirt's use here." …Perhaps it's just, you know, a fun t-shirt his trainer likes to wear?
Auman added on Twitter that Jameis and his camp dropped the ball and used poor judgment.
There could be more awareness from Winston and his camp — pointing to the words on the shirt during video — than was shown today, yes. https://t.co/YoGCZxVp7f

— Greg Auman (@gregauman) July 13, 2018
Well, Jameis saw what was brewing on social media and wagged a Twitter finger of shame at Auman an hour or so later.
@gregauman we making T shirt articles now. Come on I know your getting anxious for the season like me too. #assumptions

— Jameis Winston (@Jaboowins) July 13, 2018
Joe's not sure where Auman was going this afternoon, but Joe certainly understood King's take, though Joe disagrees. Jameis does not need to behave a certain way to win over the media. He doesn't need to live life walking on eggshells to win over fans or teammates. He simply needs to win games. That, along with standard and acceptable behavior, will determine his NFL future.
Hopefully, Jameis learned years ago that he'll have daggers thrown his way by factions of fans and media no matter what he does — good or bad.
((In related a story, Joe heard a rumor that Jameis' landscaper was seen wearing a t-shirt that reads, "UBER SUCKS; SUPPORT THE CABBIES" in the background of a Jameis Snapchat video."))