Jameis Suspension Was A "Surprise" To Ali Marpet
July 25th, 2018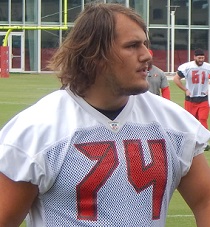 So the Buccaneers' NFL players association lead representative, Ali Marpet, didn't seem to think Jameis Winston would be suspended for three games?
Hmmm.
Joe sure found that Marpet take today on the Jameis mess a little odd.
One would think Marpet would have been all over the available details and trying to make sure Jameis' rights during the NFL investigation would be protected.
Of course, Jameis was suspended by the NFL for bad behavior with a female Uber driver, what the league said was "touching the driver in an inappropriate and sexual manner without her consent."
"So, I was a little surprised by it," Marpet said of the suspension.

"You know, we've got a great football team. There's a lot of talented players. Again, for the first three games we'll have a different quarterback. But again, I think we'll do a really nice job.  We as a team, we believe in Fitzy."
After Marpet expressed lots of support for Jameis and how he's handled the aftermath of the suspension, Joe followed up during the media session with the following exchange:
JoeBucsFan.com: Ali, you had mentioned you were surprised by the Jameis suspension when you heard about it. What surprised you? Did you think that he didn't do anything wrong at all.

Ali Marpet: So yeah. I mean, it's tough. I just didn't know much about it, I guess. So when I found that there was a three-game suspension, obviously there's something that I didn't know. So yeah, I was surprised.
Marpet said Jameis has talked to players about the suspension individually and Marpet seemed to imply that approach would continue.
Players reported for work today and training camp kicks off tomorrow morning.