"We Got Kids Throwin' Up"
July 8th, 2018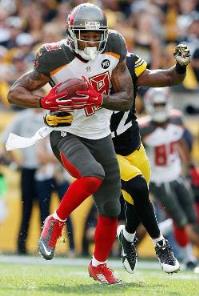 Joe really must give it up for former Buccaneers wide receiver Louis Murphy, the pride of St. Petersburg who played in seven games for the 49ers last season.
Murphy is a driven dude when it comes to helping the community.
During a recent appearance on WDAE-AM 620, Murphy talked about his 1st Downs For Life charity and how it's thriving since it launched when he was still in college. Murphy, 31, explained in detail that his mother, who was dying from cancer back then, ordered him to give back a lot to the community of St. Petersburg if he ever made it to the NFL.
The giving hasn't stopped, Murphy said. And while he's no longer with the Buccaneers, Murphy gave lots of love to Darcie Glazer-Kassewitz (a member of Team Glazer and president of the Glazer Family Foundation) for her generosity. He said of the five NFL teams he's played for — Giants, Panthers, 49ers, Raiders, Bucs — Tampa Bay is without question the most generous and dedicated to its community service.
Next week, Murphy will host a comprehensive weekend for kids that includes his free football camp that is broken into multiple age groups (see link above).
It's no ordinary camp, Murphy said, taking pride that 11 ex-campers are NFL players and many have sent him letters of thanks for how the camp prepared them.
"We got kids throwin' up," Murphy explained of the camp's intensity, emphasizing that the camp educates players on and off the field about what it takes to make it to the NFL. He also added that the No. 1 thing that gets players cut in the league is not knowing where to line up, which leads to immediate distrust from coaches.
As for Murphy the free agent receiver, he said three teams are talking to him about joining their roster, but it didn't seem like one of them is the Bucs. That's understandable given Tampa Bay's depth.
He says he's training daily and likes his chances because he's healthy after his round of knee injuries with the Bucs.
"I feel younger," said Murphy, who added that a new diet has revitalized him.