Old Fashioned Training Camp Showdown
July 4th, 2018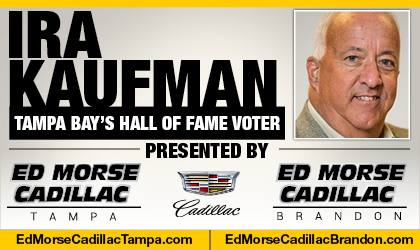 BY IRA KAUFMAN
Chris Ballard probably won't make Jason Licht's Christmas card list this year.
The GM of the Colts broke some Tampa Bay hearts on draft night when he rebuffed trade offers for the No. 6 pick and selected Notre Dame guard Quenton Nelson.
The Bucs were then on the clock when Licht swung a deal with the Bills, moving back five spots before picking Vita Vea. And while Vea looks like a prominent piece in a rebuilt defensive line, Nelson looks like the man who got away.
Tampa Bay's decision to dump J.R. Sweezy leaves a gaping hole at right guard. Nelson would have been a terrific fit in pewter, but Ballard stuck to his guns — while sticking a shiv in Licht's back.
It was a 6-foot-5, 324-pound body blow, but don't blame Licht for the damages.
Although he craved Nelson as much as Ballard, Licht didn't have the right ammo to move ahead of Indianapolis, so he did the next best thing.
With Nelson off the board, the Bucs moved back to 12 and pocketed a couple of second-round picks. Ballard got his guy and Licht addressed some pressing needs.
"I talked about premium players, and Quenton was in that group," Ballard said. "I thought where we had to go, we were going to lose what I thought was a premium player. The dropoff was too much for us."
If Ballard had agreed to the deal proposed by Buffalo, Nelson would be entrenched today as Tampa Bay's right guard and the Bucs would boast an intriguing offensive line.
It didn't happen, so brace yourself for an old-fashioned training camp showdown between third-year pro Caleb Benenoch and rookie Alex Cappa, with veteran Evan Smith possibly in the mix.
From The Redwood Forest
Benenoch filled in for an injured Demar Dotson at right tackle for the final five games of 2017 and looked like he belonged. His only other NFL start came at left guard in 2016, so Benenoch should enter camp as the front-runner.
And if Benenoch wins the job and plays well, Licht's 2016 draft would look considerably better.
The biggest knock on Cappa is his pedigree. He was an outstanding college player, but that Humboldt State jersey turned off some scouts. After all, Cappa is the first Lumberjack to hear his name called in the draft since 1992.
The idea of Tampa Bay going into New Orleans with starting guards from Humboldt State and Hobart may seem like a longshot, but it's not far-fetched.
According to Dirk Koetter, Cappa is a fast learner. He'd better be, because the Superdome is one of the loudest venues in the league.
Whoever wins the right guard job will play between Dotson and new center Ryan Jensen. Like Jensen, Cappa majors in nasty. Benenoch is more of a technician.
Ghost Vibe
Fury or finesse? Who cares? Offensive line coach George Warhop just wants a guy he can rely on.
Sweezy's two-year stint in Tampa was quite forgettable, so the Bucs are moving on. Fair enough, but I have a feeling the ghost of Quenton Nelson may haunt this franchise for years.
"My first impression was, 'This is the best offensive lineman I've seen coming out of the draft in awhile,'" Colts coach Frank Reich said. "I was just thinking about the first time talking to Chris about this, and our mutual consensus was, 'This is where we have to go. We have to build the fronts.' That's what wins. In the long run, you have to be good up front to get to where we want to get to."
In the NFL, those are words to live by.
Ira Kaufman is the most revered sports personality and writer in town. He has hung his hat at JoeBucsFan.com world headquarters since July 2016. Tampa Bay's only Pro Football Hall of Fame voter, Ira busts out columns here every Monday, Wednesday and Friday, and his award winning podcasts fire Tuesdays and Thursdays. You can also hear Ira on SiriusXM Mad Dog Radio Wednesdays during football season, and see him now on Mondays at 10:30 p.m. on Spectrum Sports 360 (aka BayNews 9). Ira also is part of the FOX-13 Tailgate Sunday show and enjoys beet salads, Riesling, Chiefs victories and needling Joe.