Set The Tone From The Opening Kickoff
July 4th, 2018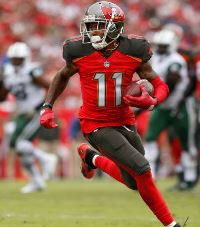 Dirk Koetter should know that Tampa Bay needs to be in playoff mode to start the regular season in 67 short days.
And what a statement Koetter could make from the opening kick.
The most dangerous man wearing pewter with the ball is DeSean Jackson. And Joe would love to see Jackson out there for the opening kickoff. Even if it's a touchback, it doesn't matter.
Make a statement.
Put the big stick out there and let everyone know it's a new Bucs team that's going to let it all hang out.
Koetter said last year that Jackson might be used as returner in an emergency situation. Well, the Bucs should be in emergency mode — one that should include letting Jason Pierre-Paul play every damn snap if he's playing well.
Jackson was a superstar punt returner early in his career and still has the juice to be dangerous. He Jackson didn't return any kicks or punts last year, but he did rush three times for 38 yards. So it's not like Koetter is afraid to have him exposed outside the receiving game.
Joe just wants to see a Bucs team leaving everything on the field during a brutal slate of September games.
Attack every angle in a quest to eliminate this vile, soul-sucking stain of incessant losing. Koetter has a barrel of talent on this roster. Use it.
If you've never seen Jackson as a returner, enjoy the video below.
Would love to see Koetter set the tone and trot out D-Jax for the opening kick. Doesn't matter if it's just a touchback. https://t.co/BzARInZ5sq

— JoeBucsFan (@JoeBucsFan) July 4, 2018