Explosion!
July 20th, 2018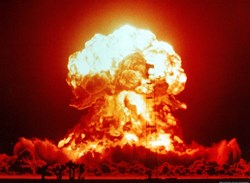 Bucs coach Dirk Koetter always talks about explosive plays. And he is right. For an offense to hum, it needs explosive plays.
But how about an explosive player? Well, Brent Sobleski of Bleacher Report has decided to scan NFL rosters to see which players are due for an explosive season. On his list is Bucs left guard Ali Marpet.
Marpet transitioned well to snapping the football, but the Buccaneers had a chance to sign a top free-agent center. Ryan Jensen's acquisition speaks volumes: Tampa Bay's coaching staff has enough confidence in Marpet to move him without any concern about his performance.
It is curious to Joe why the Bucs are so hellbent on shifting Marpet to left guard. Why not right guard where he played his first two seasons? No learning curve there.
Joe guesses it is because of two things. The first would be the decision was made with the expectation that J.R. Sweezy would still be at right guard. Sweezy since has been released, largely due to his injuries.
The second reason is Joe assumes the Bucs want to be dominant on one side of the field in regards to blocking. With Donovan Smith, Ryan Jensen and Marpet making up one side and the middle of the offensive line, Marpet's move to the left side accomplishes this.