Now Play Follow The Leader
July 10th, 2018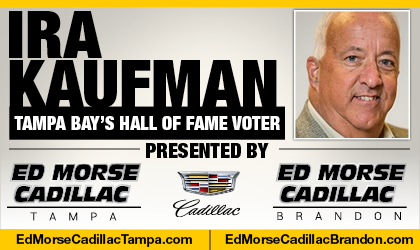 BY IRA KAUFMAN
In more ways than one, Kwon Alexander reigns as Tampa Bay's man in the middle.
Dirk Koetter admittedly craves a badass football team and nobody on the Buc roster represents that mindset more than a fourth-year middle linebacker who talks trash and cleans up the garbage in the trenches.
Alexander, who turns 24 on Aug. 3, saw his play drop off a bit after leading the NFL in solo tackles in 2016. A hamstring injury in the opener forced him to the sidelines for four games, but Alexander wasn't quite the same force when he returned.
That's not to say the Bucs can get along without him. In the four games Alexander missed, opponents averaged 30 points and 427 yards.
Those are brutal numbers, even by Buc standards.
Gerald McCoy has been the face of this defense since 2010, but Alexander has been the soul since Jason Licht plucked him out of LSU.
When Swaggy Baker finally wore out his welcome with a bonehead play in Charlotte, it was Alexander who confronted the free-agent bust in a contentious locker room.
Baker is gone, baby, gone, while Alexander stands ready to play the heavy again, if necessary.
"Yeah, I am a leader of this defense," he says. "I am the middle linebacker. I speak my mind, regardless of what it is. I feel like I should open my mouth more, so I have been doing that more since I got here and that is what I am going to keep doing."
Third Best
The NFC South is known as a quarterback-rich division, but the middle linebacker play isn't too shabby, either. Right now, I've got Alexander tabbed at No. 3 behind Luke Kuechly and Deion Jones.
Yes, Deion Jones. In case you haven't noticed, Jones registered 138 tackles for Atlanta last year while matching Alexander's three interceptions. He also had 13 passes defended while roaming sideline to sideline.
Kuechly is well on his way to Canton. Enough said.
The Bucs believe Alexander has it in him to develop into a perennial Pro Bowler. He earned that honor last season as an injury replacement and he liked the company.
Everywhere he looked, he was surrounded by leaders.
"Everyone is being held accountable for what they need to be doing," he says. "So if they're not doing it, then I'm going to get on their butt — regardless of whoever it is. I'm going to be a leader of this team and I'm going to let people know I'm a leader."
Even when Alexander returned from injury, Tampa Bay's defense was ravaged far too often. As the middle linebacker, Alexander assumes his fair share of the blame for a 5-11 debacle.
He's hungry for another chance.
"My goal this year was eating healthier, so, I feel way better than I ever felt," he says. "Just being smarter in the game. I have been watching a lot of film, way more film than I have been. I have been sitting in my room just beating myself down in film just watching, especially my bad plays more than my good plays."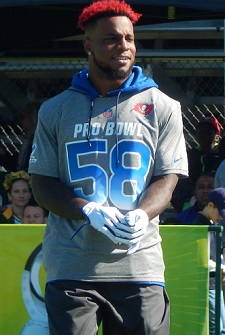 In The Zone
Those good plays will multiply if Tampa Bay's overhauled defensive line plays up to expectations. Big bodies like Beau Allen and Vita Vea are supposed to occupy blockers and keep Alexander free to make plays.
"That's the philosophy," says Lavonte David. "You want your D-linemen to get up field and let your linebackers flow. That's the way Coach Smith wants it and I feel like those guys are going to get the job done.
"With our division, you have a lot of teams that run that zone-running scheme. So when you have a guy who can get up field and disrupt, or a big guy who takes up two guys, it's really smooth for linebackers to flow."
After three seasons and 28 losses, Alexander realizes talk is cheap. He's placed himself in line for a lucrative contract extension, so it's time for the Bucs to play follow the leader.
Ira Kaufman is the most revered sports personality and writer in town. He has hung his hat at JoeBucsFan.com world headquarters since July 2016. Tampa Bay's only Pro Football Hall of Fame voter, Ira busts out columns here every Monday, Wednesday and Friday, and his award winning podcasts fire Tuesdays and Thursdays. You can also hear Ira on SiriusXM Mad Dog Radio Wednesdays during football season, and see him now on Mondays at 10:30 p.m. on Spectrum Sports 360 (aka BayNews 9). Ira also is part of the FOX-13 Tailgate Sunday show and enjoys beet salads, Riesling, Chiefs victories and needling Joe.