Bucs Hoping For Another Michael Brockers; A Fresh Vita Vea Analysis
July 3rd, 2018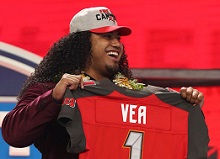 The more Joe studied college film and stats of Bucs rookie manbeast first-round pick Vita Vea, the more Joe was flummoxed that Vea had so few tackles for loss during his University of Washington career.
Yeah, there's much more to a defensive tackle than numbers and TFL's, as they're called. But Vea, the No. 12 overall pick, only logged 15 TFLs in 37 college games.
Production is critical, and it's just odd that a freakish athlete like Vea wasn't making as many splash plays as many of his peers.
So Joe, along with spring JoeBucsFan.com intern Tyler Lynn, dove into data on defensive tackles drafted since 2009.
Of the 53 defensive tackles selected in Rounds 1 and 2 from 2009 through 2017, only nine had fewer tackles for loss in college than Vea, and none of those were drafted as high as Vea. The closest was Rams defensive tackle Michael Brockers, the 14th overall pick in 2012. He had 11 tackles for loss in a 27-game career at LSU.
Brockers is the cream of that crop of nine. He's a $10-million-per-season player for Los Angeles and has been a rock through his six years. And it sure helps to play alongside Aaron Donald.
Malcolm Brown of the Patriots (32nd pick in 2015) and Chicago's Eddie Goldman (Bears second-rounder in 2015) have been solid defensive tackles in the NFL, and both had fewer tackles for loss than Vea in college. Jarran Reed (Seattle second-rounder in 2016) appears to be the last of the pure success stories from that crop of nine, while the jury is still out on Giants second-rounder last year, Dalvin Tomlinson.
Marvin Austin, Phillip Taylor and Ego Ferguson were busts, and Jordan Phillips is now competing for a job with Akeem Spence in Miami, which isn't a great look for a 2015 second-round pick.
Joe chatted with some folks who scouted Vea and they talked about his disruption, potential and how team certainly ran away from where he was positioned. Joe's initial reaction was thinking about how college offensive coordinators avoid nearly every defensive tackle worthy of a premium draft pick. Right?
Again, this is just something to think about with Vea. He's wildly talent but was lacking the numbers in college.
That'll be just fine for him in the pros, as long as he's setting up those around him. The Bucs, of course, are hoping for more.
((For those wondering, Joe rarely accepts an intern but gets dozens of inquiries every year. Please don't be insulted. This was a unique high school internship.))