"Still Shakin' It, Boss"
July 11th, 2018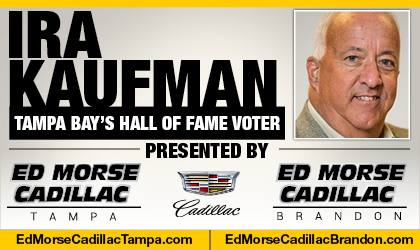 BY IRA KAUFMAN
We should have known it from the start.
We should have realized that offense was going to be an issue when the Bucs failed to score a point in three of the first five games this franchise ever played. That 1976 expansion team averaged only 8.9 points on the season, generating a slew of memorable one-liners from John McKay.
All these years later, scoring enough points is still a problem. A big, fat problem.
When the Bucs entered the NFL, Gerald Ford sat in the Oval Office. Gas was 59 cents a gallon. The No. 1 song was "Shake Your Booty" by KC and the Sunshine Band.
Still shakin' it, boss.
After 42 seasons, the Tampa Bay Buccaneers have still failed to field a Top 5 scoring attack.
Think about that for a moment. Think about all the coaches, schemes and players that have come through this town for a franchise that has never once ranked Top 5 in scoring. The closest Tampa Bay came was in 2000, when Shaun King was under center and Warrick Dunn powered the league's No. 6 scoring attack.
With Les Steckel calling the plays, the 2000 Bucs ran 490 times and threw only 433 passes. For his impressive efforts, Steckel was promptly fired.
King's primary targets on that 10-6 team were Keyshawn Johnson, Jacquez Green, Reidel Anthony and Dave Moore. With all due respect to those gentlemen, that group can't compare to the weapons brandished by the current Bucs.
Loaded & Elite
Tight ends Cameron Brate and O.J. Howard split 12 TD catches last season, with Howard averaging a team-high 16.6 yards per catch as a rookie. Mike Evans tops a deep and talented corps at receiver.
""We have a good group at wideout," says Dirk Koetter. "Those first four guys are really good and they complement each other well. I think our second-level guys, Freddie Martino and Bobo Wilson, have really upped their games. That gets you to six."
Is it really a stretch to suggest Ryan Fitzpatrick will have the best group of targets in the league to throw to in the season opener at New Orleans?
Evans is being paid like an elite receiver and he has reached the 1,000-yard mark in all four of his pro seasons. DeSean Jackson arrived in Tampa in 2017 with a reputation as one of the NFL's premier deep threats. Adam Humphries has steady hands and a knack for getting open. Chris Godwin has the look of a young stud.
Add in the talent at tight ends and that's a load for any pass defense to deal with.
You can bet Koetter is still beating himself up for averaging only 20.9 points last year, good for 18th in the league.
What Changes?
Blame an erratic ground game or inconsistent blocking, but Koetter made his bones in this league as an offensive coordinator and the 2017 Bucs underachieved when they owned the football. Perhaps the elevation of Todd Monken can clear Koetter's plate enough so he can return to the innovative play calls that marked his 2015 season as Lovie Smith's offensive guru.
By the way, that 2000 season represents the only time in franchise history that the Bucs have ranked better than 13th in scoring offense.
No wonder Buc fans love defense — they haven't been given much of a choice.
With targets this skilled and this deep, Fitzpatrick and Jameis Winston have no reason to lock onto one guy.
Spread the ball around, don't choose to suck and who knows … the Saints may have company atop the scoring charts this fall.
Ira Kaufman is the most revered sports personality and writer in town. He has hung his hat at JoeBucsFan.com world headquarters since July 2016. Tampa Bay's only Pro Football Hall of Fame voter, Ira busts out columns here every Monday, Wednesday and Friday, and his award winning podcasts fire Tuesdays and Thursdays. You can also hear Ira on SiriusXM Mad Dog Radio Wednesdays during football season, and see him now on Mondays at 10:30 p.m. on Spectrum Sports 360 (aka BayNews 9). Ira also is part of the FOX-13 Tailgate Sunday show and enjoys beet salads, Riesling, Chiefs victories and needling Joe.