Koetter Won't Name Jameis The Week 4 Starter
July 26th, 2018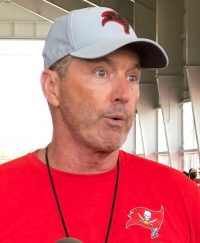 With the three-game suspension of America's Quarterback, Jameis Winston, in the rear view mirror, one giant question is what happens when Jameis returns?
Joe pressed Dirk Koetter on this subject this morning. Koetter met with media right the after the opening practice of training camp, which was pushed to the indoor facility after lightning strikes.
JoeBucsFan.com: Coach, if Jameis is healthy in Week 4, ready to play, is he 100 percent your guy?

Dirk Koetter: Week 4 is a long ways away. Week 4 is a long ways away. So, you know, let's worry about Week 4 in Week 4. Right now, let's worry about preseason and getting ready for the Saints.
Well, Koetter sure could have ended any potential cornerback controversy today, but he chose not to.
Who knows where this goes? If the Bucs are 2-1 when Jameis returns, or even 1-2 with Fitzpatrick playing well in the first three games, there's no telling what Koetter will do for one game against the Bears before the Week 5 bye.