"I Want To See The Letter From The League"
June 22nd, 2018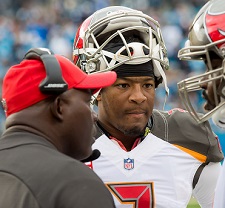 Mike Florio, Joe's friend and the creator and guru of ProFootballTalk.com, and the chief NFL insider for NBC Sports, went very deep this morning into the Jameis Winston Uber hassle and the subsequent investigation and potential NFL findings that will or will not be made public.
The video below is very thought-provoking and takes on many angles of what might be happening behind the scenes.
Remember, there is no official NFL announcement of the suspension yet. So it's likely that back-room dealings are still happening as you read this.
Of course, the NFL cares more about its image and the public fallout of a suspension than it does justice for Jameis.
Florio details, as Joe believes, that the eventual letter from the NFL explaining the suspension will go a long way to determine the fate of Jameis with the Buccaneers. If the NFL admits they believe Jameis groped the female Uber driver, then Jameis might be cooked in Tampa.
"I don't have an opinion on it yet," Florio said. "I want to see the letter from the league." But Florio did go on to say perhaps the NFL will broker a joint announcement with Jameis of an agreement that includes little details and no appeal by Jameis.
Florio did say he his highly skeptical of Jameis and what his Uber ride behavior could really mean. "If he did that one thing, what else has he done that we don't know about? Because that seems awfully random?"
Sadly, Joe knows a lot of Bucs fans are saying the same thing.