Toughest Schedule Just Got Tougher
June 22nd, 2018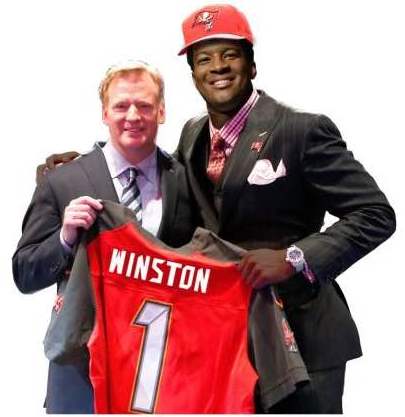 Joe knows there are conspiracy theorists out there that believe the NFL has it out for the Bucs.
Since the day Chucky was jettisoned one could make an argument the Bucs have had it out for the Bucs. And the results have been extraordinary.
Depending on how you look at it, the tentative three-game suspension for America's Quarterback, Pro Bowler Jameis Winston, is either good timing or an evil set up. The way Joe saw it, even with Jameis there, it was a real possibility the Bucs could start out 0-3 playing the Saints on the road followed by two home games against Pennsylvania's finest, the Eagles and the Steelers.
The fact — for now — Jameis will miss those games, it is good to get that out of the way.
Now the folks at BSPN seem to imply the Bucs' hardest schedule just got even harder. Consider the gauntlet Tampa Bay will face in September.
The Buccaneers' first 3 games of the 2018 season are the toughest first 3 games of a season for any team in the Super Bowl era, based on their opponents' records in the previous season

Week 1 at Saints (11-5)
Week 2 vs Eagles (13-3)
Week 3 vs Steelers (13-3)

— NFL Research (@NFLResearch) June 21, 2018
Just get Jameis' suspension over with. If the Bucs are 1-2, they dodged a bullet.
Look, it wasn't as if Ryan Fitzpatrick embarrassed himself playing for an injured Jameis last season.