Thursday Practice Notes & Nuggets
June 7th, 2018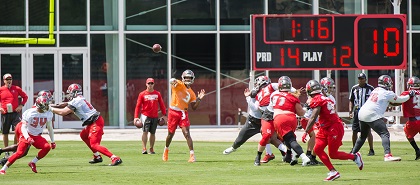 Joe is close to training-camp form with today's world famous practice notes from the OTA session at One Buc Palace. It was the final open practice before mandatory minicamp kicks off on Tuesday.
Grab a meaty sandwich and dive in.
*Quarterbacks, led by America's Quarterback, Pro Bowler Jameis Winston, sprint — no jogging or walking — from practice field to practice field when drills are switched up.
* Since today is the last day of OTAs (minicamp is next week), it seems that's why there's more special teams work than previous OTA open practices.
* Defensive tackle Stevie T. gets a tongue-lashing from assistant defensive line coach Paul Spicer. "How many times am I gonna tell you… " Spicer could be heard telling Stevie T. Then, Spicer pulled Mitch Unrein from a group and demonstrated with Unrein what he was looking for Stevie T. to do.
* With J.R. Sweezy sidelined (naturally) and Demar Dotson also on the shelf, the right side of the offensive line for the first team was Caleb Benenoch at right guard and Leonard Wester at right tackle.
* Peyton Barber catches a screen pass on the right side from Jameis and weaves through traffic for a big gain. Always have to remember this is underwear football but the defense still practices slapping at the ball.
* Jameis has a short pass over the middle hit a running back right at the belt buckle but the ball was tipped, went through Lavonte David's hands and into the arms of Justin Evans, who housed it down the left sideline.
* Barber with a big round around right end. Again, underwear football.
* Seems to be a lot of tipped passes today.
* Ryan Fitzpatrick connects with Bobo Wilson down the right side.
* The crooning singer from the noted Vero Beach  Ramada Inn velvet-lined lounge, Freddie Martino, is getting a lot of work with the first and second teams today. On a pass from Fitz that was high and behind Martino on a crossing route from right to left, Martino skies to make an acrobatic catch and is able to continue his route for a large chunk of yards.
* Barber is bottled up behind the line of scrimmage on an attempt up the middle but squirrels away for a run around left end. If this were real football Barber would have been tackled for a loss.
* Chris Godwin catches about a 20 yard pass along left sideline from Jameis. As former Bucs guard and current Tampa Bay radio personality Ian Beckles would say, Godwin looks "swole."
* Jameis too far trying to connect with Martino in the right cornr. On the very next play, check Jameis hits Martino on a check down where he is wide open.
* A long pass intended for Evans from Jameis down left sideline. It wasn't a bad pass but excellent coverage by Carlton Davis who got Evans off his route and Evans wasn't able to get to his spot in time, but good play by 33 to get Evans off his route. You could see how Davis got Evans to slow down just as he made his break or Evans would have run over Davis for a potential offensive interference call.
*7-on-7 work kicks up in the second half of practice and Jameis fires a quick out to the left to Chris Godwin. Complete!
*Jameis comes back quickly, again to the left, this time to Peyton Barber
*Vernon Hargreaves is pressing Adam Humphries tightly in the slot. Hargreaves looks on his game today.
*Ryan Fitzpatrick runs through his progressions and settles on fullback Austin Johnson.
*Linebacker Riley Bullough, aka Joe Dirt, is barking up a storm on defense to the men on his side of the ball. The booming voice of LB coach Mark Duffner is then heard, "Attaway to talk! That's how you get better!"
*Overthrow by Ryan Griffin. Not a good day for him.
*DROP! Rookie Syracuse camp meat receiver Erv Philips on a short pass.
*It's 11-on-11 time and Jameis throws a 20-yard touchdown to Mike Evans with cornerback David Rivers in coverage. Everything was textbook by the offense, right in stride for the TD. Looked like Evans was picking something off a top shelf at Sam's Club.
*Incomplete. An apparent throwaway in the direction of Humphries.
*Jameis throws short to the 2 yard line in the red zone to Chris Godwin. Catch and STRIP! Ball is punched away by Hargreaves and recovered by the defense. Defenders are fired up.
*Incomplete to Martino in the right corner of the end zone. That wraps up the first-team work and gets Kwon Alexander dancing with some disturbing hip thrusts.
*Rifle alert. Ryan Fitzpatrick hurries and fires an eight-yard pass right in the gut of O.J. Howard. DROP!
*Fitz comes back with a quick release throw to Cameron Brate. Complete!
*Bullough with a sweet pass breakup on rookie tight end Jason Reese. Not the best throw by Griffin.
*Nice TD grab by Philips from camp meat QB Austin Allen.
*More 11-on-11 opens with a deep underthrow by about five yards by Jameis. Sorry, Joe missed the target. … No sign of DeSean Jackson, or Jason Pierre-Paul, at practice.
*BLITZ! Busted coverage by the defense and Jameis throws a short ball to Alan Cross, who takes it 45 yards to the house. Jameis runs down for a celebration.
*Fitz comes back in with an incomplete pass followed by a touchdown toss to Martino. Pretty. Joe could almost hear the celebration at the velvet-lined lounge at the Vero Beach Ramada Inn. Javien Elliott was covering.
*Fitz complete to Bobo Wilson on a crossing route. Too easy. Mike Smith screams, "What's going on?"
*Jameis rolls right and hits Godwin short.
*Davonte Bond loses Cameron Brate. Easy touchdown!
*QB keeper by Jameis to the right. School kid viewing practice with a visiting group says, "He's slow."
*M.J. Stewart strikes Joe as a little slow. Perhaps he's just adjusting or someone else is wearing his number.
* It is 1:25 p.m. Fifty-yard gassers for the final five minutes to end practice on a steamy afternoon.
* Rookie receiver Justin Watson was sidelined for practice. However, as his teammate were running gassers, Watson constantly was either doing sit-ups or push-ups in the afternoon sun.