State Drops All Drug Charges On T.J. Ward
June 9th, 2018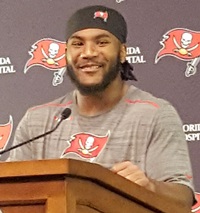 You can call former Bucs safety T.J. Ward a total free-agent bust, but don't call him a criminal.
Back in December, Tampa police caught up with Ward after he was a no-show in court following October charges of felony marijuana possession and a misdemeanor charge of paraphernalia possession. Reports claimed Ward had about 3 1/2 ounces of cannabis in his home.
On Thursday, the state dropped both charges against Ward, per Hillsborough County clerk records. It also tossed the charge of felony marijuana possession against Ciera Woody, the co-defendant and Ward's girlfriend last year.
Ward was signed to a one-year contract by general manager Jason Licht in September, a move that prompted the trade of then-new safety J.J. Wilcox to the Steelers. Ward's contract expired and the 31-year-old, two-time Pro Bowler is unemployed.
Ward fans can now exhale, and Bucs fans are still smiling that Ward didn't get two years of guaranteed money. He had trouble cracking the starting lineup on the Bucs' 32nd-ranked defense.
Joe is confident that the mere subtractions of Ward, Chris Baker and Doug Martin automatically make the Bucs a better team.