"I Feel Like Everybody Knows What's Expected Now"
June 9th, 2018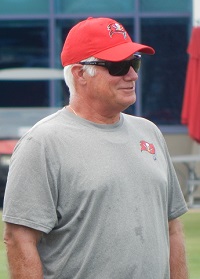 With this post, Joe will try to avoid sarcasm, finger-pointing and the general baggage that comes from loving a team that hasn't been to the playoffs in 10 seasons.
… Optimism is flowing at One Buc Palace and defensive end Noah Spence cites some interesting reasons.
"There's definitely more energy. I feel like everybody knows what's expected now," Spence said Thursday. "We feel different. We feel like more of a team, I feel like. We're talking more, everybody's trying to help each other out. I just feel like last season was a blessing for us because it showed us what we didn't want to be anymore."
That's awesome!
Again, Joe is trying not to wonder and explore why a Bucs player starting his third season playing for defensive coordinator Mike Smith and head coach Dirk Koetter strongly feels that the team is just figuring out what it needs to do — and not do.
On this sunny Saturday in June, Joe will take it and celebrate!
Sometimes, good things do take time.