Ryan Fitzpatrick Talks Leaders, Newcomers, How He "Tried Not To Cry," And T.O.
June 11th, 2018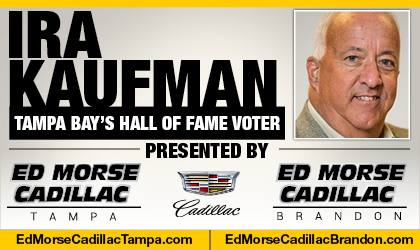 BY IRA KAUFMAN
Ryan Fitzpatrick knows a thing or two because he's seen a thing or two.
Thirteen seasons in the NFL has taught Tampa Bay's backup quarterback not to get too excited about underwear football, but Fitzpatrick has already seen enough at One Buc Place to get his adrenaline flowing about the 2018 season.
"We're excited," says Fitzpatrick, who went 2-1 while filling in for an injured Jameis Winston last year. "It's been a great offseason so far. Every year, the more guys that you can keep together, the more you can advance on what you're trying to do on offense. Chemistry continues to get better. I know one thing — I like the guys in this locker room."
A 5-11 season usually triggers sweeping changes, and the 2018 Bucs are no exception. Five new defensive linemen will be scrutinized by new position coach Brentson Buckner during training camp and Ryan Jensen represents a badass addition as the new anchor of the offensive line.
Fitzpatrick, who turns 36 this fall, has been through the grind with seven NFL franchises. He has experienced both failure and success at the pro level and he knows the difference that new players can make … if they are the right players.
"It's hard to see until you throw the pads on, but I'm sure it'll be apparent in training camp that we've improved our roster," he says. "Ryan Jensen has a real veteran presence and he'll bring a lot of grit up front. Getting to know Vinny Curry and Beau Allen a little bit, those are two guys you want on your team."
Although Jason Pierre-Paul didn't make his towering presence felt on the field during OTA sessions, he's got nothing to prove to Fitzpatrick.
"I played against JPP in one of his first games with that cast on," says Fitzpatrick, who was sacked only seven times last year in 163 pass attempts. "He hit me so hard with that cast. It hurt so bad and I tried not to cry. He's such an explosive guy off the edge. As an offensive guy, he's somebody you have to account for on every snap because he's a disruptive presence."
Speaking of disruption, those Hard Knocks cameras won't be rolling at One Buc Place this summer. This football team is off the national grid, so Fitzpatrick is curious to see how the Bucs respond to a diminished profile and a daunting early slate.
"I don't know that it really matters that much," he says. "We have a good focus here right now. If we are going to be the team we think we can be, it doesn't matter who is on the schedule."
Total Investment
Part of Fitzpatrick's role is to serve as a mentor to Winston, who enters his fourth pro season with an 18-27 record. While Winston awaits the results of a league investigation, Fitzpatrick continues to marvel at his teammate's fierce dedication to both the job and the community.
"Jameis is a great teammate and a great leader," Fitzpatrick says. "He's been here the whole offseason, doing the things he always does. I still can't beat him to the parking lot in the morning. Last weekend, his camp was unbelievable. I don't know that he gets enough publicity for some of that stuff. There were 300 kids there and Jameis is 100 percent invested and present in that camp. It's really something to see."
On the subject of outstanding work ethic, Fitzpatrick has nothing but praise for former Buffalo teammate Terrell Owens, who just announced he won't be in Canton for his August induction into the Pro Football Hall of Fame.
"We had a good rapport and I consider T.O. a great teammate," says Fitzpatrick. "When he came to Buffalo, he had been in hot water a little bit. But he still had a lot of juice and I was impressed with the way he worked and grinded every rep at practice. When all is said and done, I think he'll show up in Canton."
Ira Kaufman is the most revered sports personality and writer in town. He has hung his hat at JoeBucsFan.com world headquarters since July 2016. Tampa Bay's only Pro Football Hall of Fame voter, Ira busts out columns here every Monday, Wednesday and Friday, and his award winning podcasts fire Tuesdays and Thursdays. You can also hear Ira on SiriusXM Mad Dog Radio Wednesdays during football season, and see him now on Mondays at 10:30 p.m. on Spectrum Sports 360 (aka BayNews 9). Ira also is part of the FOX-13 Tailgate Sunday show and enjoys beet salads, Riesling, Chiefs victories and needling Joe.