No Deep Threat
June 13th, 2018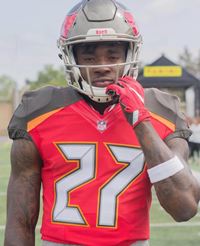 Joe's got two videos just like this one below from yesterday's practice.
So don't be looking for a wheel route to rookie running back Ronald Jones in the 2018 playbook.
For the limited number of spring practices Joe has been allowed to watch, it seems Jones doesn't have great instincts as a receiver. And that's OK. Just hand him the rock. Jones isn't here for his hands and ability in the deep-passing game.
Yes, he's 20 years old and Joe is not claiming Jones can't catch.
Jameis Winston and Dirk Koetter each cited Jones' hard work ethic yesterday, so there's no concern whatsoever here.