"I Don't Think Nothing Too Worse Will Come Out Of That"
June 13th, 2018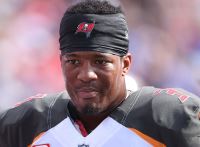 The subject of the NFL investigation in Jameis Winston came up today following the Buccaneers' morning walk-through.
DeSean Jackson weighed in.
He seems to think the outcome won't be so bad but acknowledged is a prayer-type of situation when it comes to the subjective nature of NFL discipline.
Jackson was asked about the dragging out of the Jameis investigation, a possible lack of due process and whether the subject is talked about on the team.
"We support each individual, you know, when you're going through a serious situation, especially when the league is investigating," Jackson said. "So you know, they have a system they go about. As a player you got to, you know, abide by that and just pray for the best. But I don't think nothing too worse will come out of that. Whatever happens you learn from it and you move forward. Hopefully, you don't have to deal with anything crazy. We're out here to support each other."