Lavonte David, "Anonymous Star"
June 9th, 2018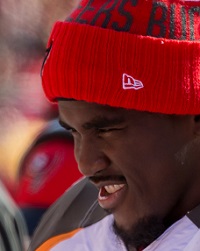 It's still hard for Joe to believe that Lavonte David played 13 games last season without a sack or an interception.
He had 10 picks and 18 sacks through his first five years before the 2017 goose egg.
He even officially defended just one pass last season. Somehow, Chris "Swaggy" Baker defended two, per NFL stats.
But none of those poor 2017 numbers makes David a bad football player. He's a good football player. But is David an MVP candidate?
Dan Hanzus of NFL.com thinks so. He set out to identify a 2018 MVP for every team and chose David for Tampa Bay.
Tampa Bay Buccaneers: Lavonte David, LB

David might be the most anonymous star in the NFL today. He's been a difference-making presence in Tampa Bay's defense for six years now, but he has only one Pro Bowl nod to show for it. At least the tape geeks are paying attention: Pro Football Focus ranked David second amongst all linebackers last season, sandwiched between Bobby Wagner and Luke Kuechly. That is pretty solid company. If you believe the Bucs are going to bounce back from last season's disappointment, expect David to be a primary reason why.
Joe puts a big chunk of responsibility here on Mike Smith. Get the most out of your talent, Coach. You've got studs at every level of the defense, and David is one of them.
If you missed Joe chatting with linebackers coach Mark Duffner about David and Kwon Alexander's sackless season in 2017, then you can read all about that here. Duffner said timing, footwork and awareness needed improvement, among other things.
That written, Hanzus certainly could be correct. David has the talent to be defensive MVP. Hopefully, he's one of a few Bucs defenders to step up and deliver a stud season in 2018.