LB Coach Addresses Sackless Season From Kwon Alexander And Lavonte David
May 16th, 2018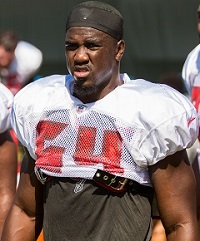 If you asked Joe last year at this time to wager $10,000 on Lavonte David and Kwon Alexander combining for at least one sack in 2017, Joe would have found a way to come up with the cash and make the bet.
A no-brainer.
Sadly, Joe would have lost the bet.
The failure of all those blitzes by David and Alexander is one of the great mysteries of the 2017 season, right up there with Doug Martin getting so many carries.
Linebackers coach Mark Duffner was available to media today and Joe was determined to ask the question that needed to be asked.
JoeBucsFan.com: Coach, Lavonte David and Kwon Alexander, they blitzed their share last year and didn't end up with a sack. Looking back at it, was there a lot of bad luck involved? Was it maybe something related to the defense itself? What can you say about that?

LB Coach Mark Duffner: I think really as much as anything we got to get better at our technique. Some of that's timing. Some of that's footwork. Some of that's awareness. And so regardless of any other things, it's our responsibility at linebacker as blitzers to make the quarterback feel it. Sometimes it's not a sack. You can be a doggone good blitzer, but if you can get the quarterback off the spot, or you can get him to hurry throwing the football, that's a plus. Now we love to get sacks, and we'd rather get sack fumbles, but when we blitz, the quarterback has to feel us. That's when I think that the blitz is not successful, if he's not affected. If we affect the quarterback with a hurry or a batted pass or something, we'd love to get the sack, that's kind of the ultimate. But anything else that changes their timing is a plus for us.
So there you go, a detailed answer and a good one: technique tops the list.
Duffer added to another reporter that David and Kwon are focused on "improving their awareness" and becoming "quicker decision-makers," keys to their season, Duffner said.