Koetter Talks Peyton Barber, No. 1 RB
June 14th, 2018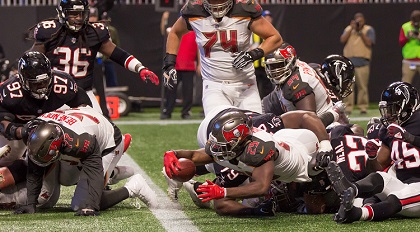 Peyton Barber is your top dog, the Buccaneers' No. 1 running back.
That's exactly where it stands as mandatory minicamp closed today, and that's what it will be when training camp opens in six weeks, barring a wild trade by general manager Jason Licht.
It was a new role for Barber entering the 2018 offseason. He took the large majority of first-team reps through the spring, despite the presence of rookie Ronald Jones, the No. 38 overall pick in April's draft. For the past two springs and summers, it was the Doug Martin show at One Buc Palace.
Joe asked Dirk Koetter today how Barber has grown into his role as the go-to running back.
JoeBucsFan.com: What kind of maturity did you see from Peyton Barber? It was the first time he got to come in as the No. 1 guy in the spring.

Dirk Koetter: I think he's ready for it. I think he's ready for it. He looks quicker to me. He's still 235 pounds, which when you see the body weights you want to think Peyton's 225 because he looks faster. I think Peyton's matured a lot. I think having Jacquizz [Rodgers] and Chuck [Sims] to coach, to help coach not only Peyton but also Ronald Jones, it's nice to have those veterans there. But I've got no problem with Peyton being out there.
First, it's worth noting that Koetter didn't mention any kind of competition battle for the top running back position, and Koetter did not dispute or discredit Joe's contention that Barber is the No. 1 guy.
Joe is very confident that Jones will get his shots, but only roughly 8 to 10 carries a game, especially through the first four games. The Bucs have a bye in Week 5. Jones will have to prove himself.
Before some Bucs fans start screaming, remember that Saints stud rookie RB last year, Alvin Kamara, averaged just seven carries per game.