Koetter Says Defensive Line And Wide Receivers Are Bucs' Strongest Positions
June 14th, 2018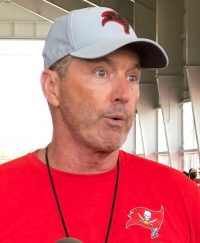 Medics were called in and Joe was handed a paper bag and a towel.
Joe couldn't believe what was coming from the mouth of Bucs coach Dirk Koetter this afternoon.
The head coach said the Bucs' defensive line set the tone through spring practices and that unit and the wide receivers are the strongest position groups on the team.
Defensive line? Thank you, football gods.
"Obviously, the d-line. I mean the d-line set the tempo in practice every day," Koetter said. "You know, we're supposed to be in no-contact. You know I don't know how much you could tell from [the sidelines], if that's no contact, I wouldn't want to be in there. So the d-line, and then the wide receiver group. Those two groups are our strongest positions right now."
Imagine that, the defensive line leading the way. Last year, it was the linebackers, if you want to give a prize to a 5-11 football team.
Goodbye, Jay Hayes. Hello, Brentson Buckner! And all the additions — and subtractions — by general manager Jason Licht are right in line with the energy, juice and right attitude.
It's been a generation since the Bucs were led by a fierce defensive line, but Joe's not getting to high yet from the current group.
Right now, Joe primarily hopes Jason Pierre-Paul and Gerald McCoy still have a year in their "prime" remaining, and that Vita Vea is as advertised. That should be enough to stabilize the defense and take it from wretched to average immediately.